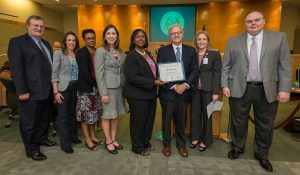 All middle and high students will be provided with smoking prevention curriculum developed by cancer center
HISD and the University of Texas MD Anderson Cancer Center have reached a first-of-its-kind agreement to provide access to an evidence-based, youth-oriented tobacco prevention and cessation program for all 110,000 HISD middle and high school students.
A Smoking Prevention Interactive Experience (ASPIRE) will be made available in English and Spanish through HISD's online learning and teaching platform, known as the HUB, and the curriculum will be used in required health and physical education classes across 46 high schools.
"Reducing the devastating effects of tobacco in Houston's youth is of paramount importance to our mission of eliminating cancer," said Dr. Ethan Dmitrovsky, MD Anderson Cancer Center Provost and Executive Vice President. "We are very pleased to announce this partnership as an important step toward improving the future health of our community."
Dmitrovsky and several other representatives from MD Anderson were recognized at the Oct. 13 Board of Education meeting for their efforts at facilitating the partnership at zero cost to the district.
"The support and research from MD Anderson is an incredible, local resource to HISD," said Annie Wolfe, HISD Officer of Secondary Curriculum and Development. "We are thrilled about this partnership and all that it will provide for our students."
ASPIRE was developed by MD Anderson researchers to provide an engaging curriculum for teens to learn about the dangers of tobacco use, thereby encouraging them to quit smoking or never start. The program incorporates video game-like components, customized messages, graphics, animations, and streaming video
HISD served as a source for the early testing of the original ASPIRE research study, which included 16 Houston schools in the early 2000s. Thus far, more than 14,000 HISD students have used ASPIRE, primarily through health and physical education programs.