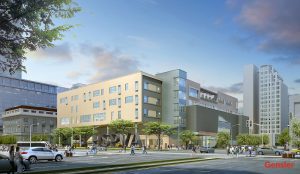 The High School for the Performing and Visual Arts (HSPVA) is set to receive a contribution in the amount of $7.5 million from the Kinder Foundation, after HISD trustees voted to accept the donation at the October Board of Education Meeting.
The school's new campus, which is part of HISD's $1.89 billion bond program and is now under construction in downtown Houston, will be renamed Kinder High School for the Performing and Visual Arts in recognition of the gift.
The additional funding will enable the school to upgrade theater seating and equipment, audio/visual systems, music practice rooms, and more, beyond the district standard for high schools that was provided through the bond project budget.
The donation was arranged by HSPVA Friends, an independent non-profit organization that awards college scholarships to HSPVA students and provides a variety of other school-related support.
"HSPVA Friends extends heartfelt thanks to the Kinder Foundation for its continued commitment to students. We also thank the HISD Board of Trustees for approving the gift," said HSPVA Friends Executive Director Alene Haehl Coggin. "We are thrilled that the school will open with complete arts facilities. We hope that many more HISD schools receive impactful support in the future."
The new 168,000-square-foot building, located between Caroline and Austin streets near the city's renowned arts and theater district, will include five stories of class and program space and two levels of underground parking. The building's main entrance along Austin Street will feature dramatic double-high glass windows and a wide stairwell. Other features include an 800-seat main theater with a balcony, dance and music studios, a modern outdoor dining area on the first level, and an outdoor roof terrace located near the library.
HSPVA is among 40 schools being renovated or rebuilt as part of HISD's voter-approved 2012 Bond Program. Construction on the new building began in March of this year and is expected to be completed in the fourth quarter of 2018.
"We are delighted with the Board decision and want to thank the HISD Board of Trustees and HSPVA Friends," the Kinder Foundation said in a statement. "We hope these joint and cooperative efforts preserve the long-term future of one of Houston's most acclaimed and diverse schools and forges a new path through public/private partnership to support future HISD schools."