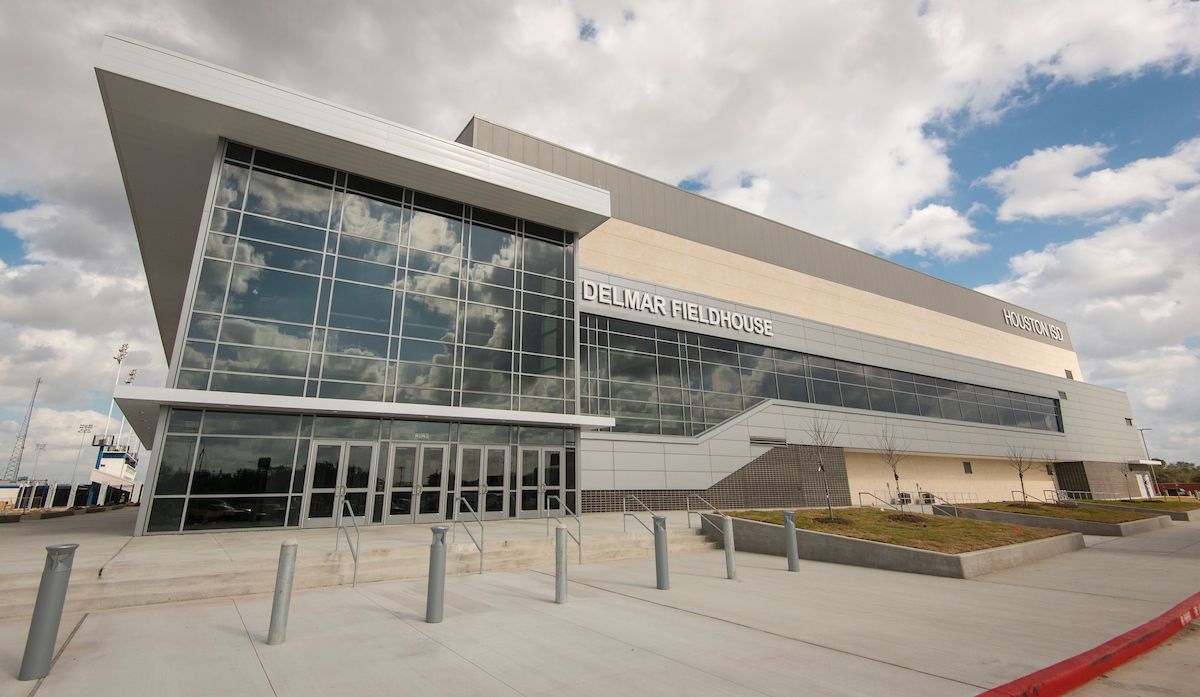 The Houston Independent School District will host a grand opening celebration to mark the completion of the new Delmar Fieldhouse, which was constructed as part of the voter-approved 2012 Bond Program.
The first games to be played in the new facility will follow that afternoon, as eight HISD boys' high school basketball teams take to the court, which features a star representing the HISD logo and an image of the Houston skyline.
The new facility, located at 2020 Mangum Road, will be formally dedicated at 10 a.m. on Friday, Feb. 10. Guided tours will be provided following the ceremony. The facility's inaugural basketball games will kick off later that afternoon at 4 p.m.
The $35.2 million, 5,000-seat facility will host basketball and volleyball games and tournaments, as well as graduation ceremonies and other special events. The maple court floor is removable and expandable, suiting both the 84 feet required for high school games and the 94 feet required for NCAA play. Lower level seating also is retractable, allowing for additional floor space, if needed.
Additionally, the 139,874-square-foot facility features modern locker and training rooms, HISD Athletics Department offices, and athletic storage for the existing outdoor stadium and field, which can be viewed from a balcony on the second floor. The entrance to the arena also showcases a portion of the center court floor from the original fieldhouse.
The Delmar Fieldhouse project was part of the work done under the 2012 Bond's district athletic facility improvements. Both Barnett and Butler stadiums also received upgrades under the $44.6 million allocation.
Delmar Fieldhouse Grand Opening
Friday, Feb. 10, 2017, at 10 a.m.
Delmar Fieldhouse Inaugural Games
Boys Basketball Teams: Houston vs. Westside, Yates vs. Washington, Lamar vs. Bellaire, and Heights vs. Chavez
Friday, Feb. 10, 2017, at 4 p.m.