Westbury High School and Garden Oaks Montessori will hold groundbreaking ceremonies this week to celebrate the start of construction on their campuses as part of the voter-approved 2012 Bond Program.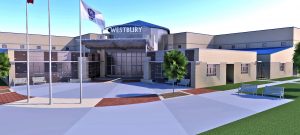 Westbury is set to receive a new two-story addition and renovations to the existing building to accommodate 2,300 to 2,500 students. The new $40 million facility will feature 26 new classrooms that will replace current portable buildings, flexible learning centers, a commons area designed to serve a dual purpose as both a dining and gathering space, and two gymnasiums. New baseball and softball fields were included in an early phase of the project and already have been completed.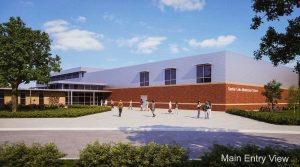 Garden Oaks Montessori, a kindergarten through eighth-grade school, is set to receive both new and renovated classroom spaces, a new multipurpose gymnasium, and a new secure main entrance. Also included in the scope of work are separate bus and parent drop-off driveways, additional parking and upgraded electrical, mechanical and plumbing systems. The $26.7 million project is designed to accommodate 750 to 900 students.
Westbury and Garden Oaks are among 40 schools, including 29 high schools, which are being rebuilt or renovated as part of HISD's voter-approved 2012 bond program. Active construction is currently underway on roughly three dozen projects — more building activity than at any other time in district history. Almost half of the schools in the program will be complete and open to students by the end of this summer. Once all work is finished, the district will boast of one of the most modern portfolios of urban high schools in the country.
Westbury High School Groundbreaking
Thursday, Feb. 16, 2017, at 10 a.m.
11911 Chimney Rock Road, 77035
Garden Oaks Montessori Groundbreaking
Friday, Feb. 17, 2017, at 9:30 a.m.
901 Sue Barnett Dr., Houston, 77018