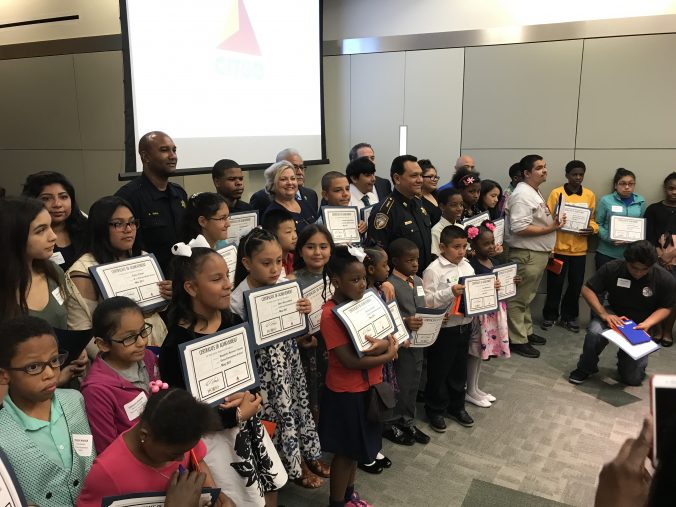 CITGO Petroleum Corp., in partnership with the Harris County Sheriff's Office, on Tuesday gave away 56 Kindle Fire tablets to HISD students with perfect attendance this school year – part of "Kindling Young Minds," a project in its sixth year that is designed to boost attendance.
Six students from each of HISD's eight regions (two students per grade level) plus eight special education students were selected at random and received their Kindles at a ceremony held at Hattie Mae White Educational Support Center. HISD's Dropout Prevention and Information Technology departments worked together to develop a random selection tool to ensure equity.
HISD Deputy Superintendent Sam Sarabia, representatives from Citgo, and Harris County Sheriff Ed Gonzalez handed out the devices to students, who were accompanied by family members and school staff.
"To the parents, we know for a child to have perfect attendance really requires you to be on duty 24/7," Sarabia said. "To the parents sitting here, the grandparents, the guardians, we wish to thank you because we know our students couldn't have perfect attendance without you."
Students who received a certificate along with their new Kindle Fire were:
Abiodun Orepo-Orjay, Welch Middle School
Abril Secundino, Golfcrest Elementary School
Adrian Ramirez, Hogg Middle School
Ajay Pizano, Heights High School
Arian Arnwine, Sterling High School
Arlie Gosser, Energized for STEM Academy
Carlos Colmenero Ballesteros, Clifton Middle School
Cecilia Monreal, High School for Law and Justice
Collin Crockett, Pershing Middle School
Daisy Cortez, M.C. Williams Middle School
Dana Tahan, Lamar High School
Daniel Chen, Barbara Bush Elementary School
Danielle Alonzo, Durham Elementary School
Dwayne Bryant, Attucks Middle School
Emily Barrientos, Fleming Middle School
Emily Pan, Bellaire High School
Eric Chairez, Fondren Middle School
Gerardo Gutierrez, Chavez High School
Ingabire Umuhoza, Las Americas Middle School
Ismael Hernandez Gonzalez, Garcia Elementary School
Jake Robinson, Mount Carmel Academy
Ja'Lyn Derouen, Atherton Elementary School
Jenesis Valasquez, Rodriguez Elementary School
Jimena Escamilla Reyes, Hartman Middle School
John Caldwell, Mickey Leland Preparatory Academy for Young Men
Jose Maldonado, Raul Martinez Elementary School
Jose Maria Perez, Navarro Middle School
Joseph Higginbotham, Fonville Middle School
Katelyn Banks, Tanglewood Middle School
Kelsey Word, Codwell Elementary School
Kenedi Benjamin, Kandy Stripe Academy
Liam Mahone, Shadowbriar Elementary School
Luis Gomez, HCC Life Skills Program
Mariana Torres, Rusk Elementary School
Mario Menshu Saldana, Bell Elementary School
Merari Zaldana, Sherman Elementary School
Murcole Breaux, Young Scholars Academy
Naydelin Ramirez Fabela, Oates Elementary School
Norris Ford, Wheatley High School
Omari Shango, Sherman Elementary School
Patrick Hudnell, South Early College High School
Preston Snowden, Anderson Elementary School
Ramina Nejad, Westside High School
Repent Nikuzwe, Burnet Elementary School
Richard Chavez, Heights High School
Sanayia Golden, Foster Elementary School
Sebastian Giron, Mickey Leland Preparatory Academy for Young Men
Shivani Saravanan, Westside High School
Sinya Bisor, Elmore Elementary School
Sophia Torres, Lantrip Elementary School
Taylisse Boissonneault, High School for the Performing and Visual Arts
Trang Hoang, Westbriar Middle School
Yoyada Weldegabr, Energized for Excellence Middle School
Zoe Powell, Gregory-Lincoln Middle School
Alberto Cardenas, Northside High School
Joana Ventura, Westbury High School