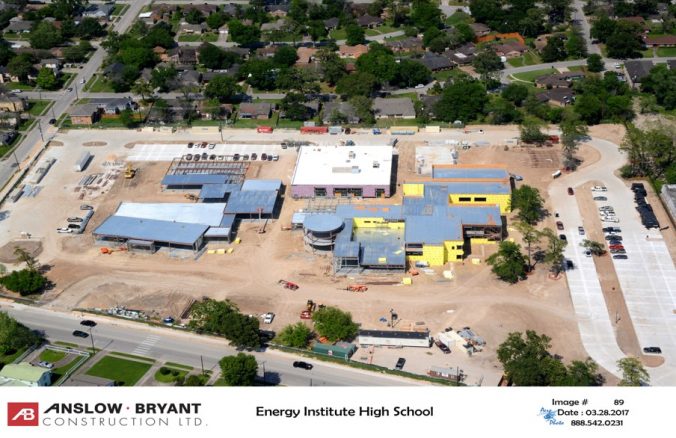 Construction on the new Energy Institute High School is almost halfway complete, with one building completely enclosed and the other two soon to follow.
Located at the rear of the new campus, the enclosed building — known as Building C — has a roof, walls and windows, as well as brick going up on the exterior, project officials said. All overhead mechanical, electrical, and plumbing infrastructure has been installed, and the building soon will have permanent power access via a CenterPoint Energy transformer.
Buildings A and B, which are at the front of the campus along Southmore Boulevard, are close behind, the project team said. Sheathing and studs have been erected, and window frames, interior plumbing, electrical conduit, and duct work have been installed.
"We are amazed at the progress. Seeing our design actually come to life is thrilling," Energy Institute High School Principal Lori Lambropoulos said during a recent Project Advisory Team meeting. "We are so proud to be at the forefront of such an innovative, non-traditional school project."
Designed for project-based learning, the 110,000-square-foot facility mimics the look of a high-tech corporate environment, with three main buildings designed to incorporate multi-level areas for work and projects.
A central courtyard with cascading stairs and trellis will expand available space for socializing and learning, and will be visible from the entryway stairs. The $37 million project is being built on 12 acres of district-owned land along Southmore Boulevard at Tierwester Street. It will accommodate 800 students.
"I think it's perfect," Energy Project Advisory Team Member Anne Papakonstantinou said as she reviewed the project plans and progress. "Y'all have done well. It's beautiful."
More information on the Energy project
All paving is complete at the new site with the exception of the main circle drive, which will be the last to be poured, project officials said. New five-foot-wide sidewalks surrounding the new campus also have been poured, per City of Houston requirements.
Over the next few months, once all buildings are fully enclosed, crews are expected to begin installing the HVAC and electrical systems, as well as the plumbing fixtures and equipment. They're also expected to complete the construction of interior walls and begin the installation of interior finishes, such as painting and tiling.
The project, designed by VLK Architects and constructed by Anslow Bryant, is expected to be complete in the third quarter of 2018.
The next Project Advisory Team meeting is scheduled for July 20, 2017 at 1 p.m. at Energy Institute High School, 1808 Sampson St.