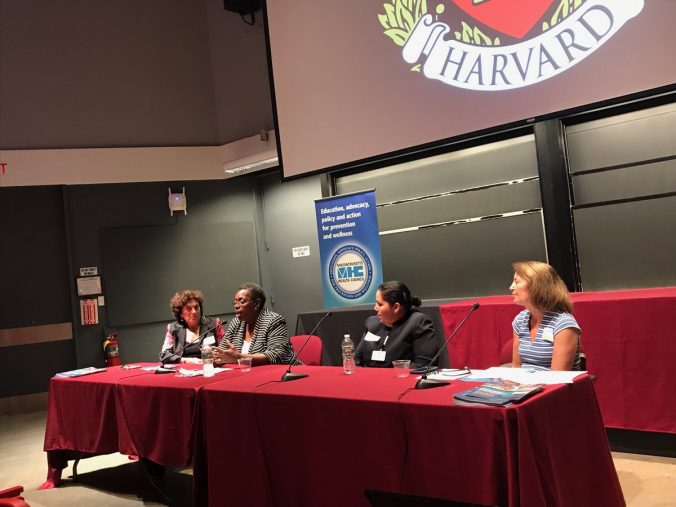 Nutrition Services Officer Betti J. Wiggins served as a keynote speaker during the Healthy Food Fuels Hungry Minds conference at Harvard University last week.
The conference was organized by a partnership between Let's Talk About Food, the Massachusetts Health Council, and Harvard University Dining Services.
Wiggins was invited to speak about her experience as the executive director of school nutrition at Detroit Public Schools, where she adopted and implemented key principles that allowed students to receive the healthiest food available. Her work included creating community gardens and implementing the first CEP (Community Eligibility Provision) program that allowed 100 percent of students in the district to eat lunch at no cost.  
She also talked about her vision for HISD's nutrition services program.
"In Detroit, my theme was increasing access to fresh fruits and vegetables. I think in Houston it's going to be food literacy and food equality," Wiggins said. "I've got a lot of well-meaning people who want certain things for their children in terms of quality meals. But how does that translate to children who are living marginally? In Houston, that's the first question we're going to work to answer."
Wiggins continues to be strong voice in advocating for better lunch options for students regardless of their family's income levels. Since joining Houston in May, she has already began evaluating the program to ensure students are getting the freshest food possible and has developed partnerships with organizations that promote healthy eating. She is also working on a farm-to-table program and expanding the district's food literacy program.
In addition to Wiggins, speakers included school food professionals, policy and wellness advocates, and officials and academics in the fields of law, nutrition, public health and education. Wiggins shared the stage with Laura Benavidez, food service director of Boston Public Schools. Both discussed the challenges that come with serving large, urban districts.