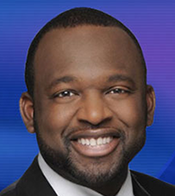 Tracy Clemons has been appointed press secretary for the Houston Independent School District.
Clemons is a passionate storyteller with a journalism career that's taken him across the country. He came to Houston as a reporter/multi-media journalist for ABC13, most recently focusing on the 10 p.m. news. He covered Michael Brown's death in Ferguson, Mo., the Charleston Church massacre, and the police shooting of Alton Sterling in Baton Rouge, La. Locally, he's covered his share of breaking news, but he's most proud of his record of telling community-oriented stories that make viewers smarter and more engaged.
Clemons is originally from Virginia. He holds a bachelor's degree from the University of Virginia and a master's degree in journalism from the University of Maryland-College Park. Prior to ABC13, he worked in Charlottesville, Va., as a reporter, in Shreveport, La., as a reporter/anchor, and in St. Louis, Mo., as a reporter/multi-media journalist.
"Being a reporter was my dream since I was 10. I can say I lived that dream," says Clemons. "Walking away is bittersweet, but the chance to tell HISD's story every day is an opportunity I couldn't pass up. It's been a joy being part of one of the best news teams in America at ABC13, but I look forward to this new chapter."
Clemons began in his new role Monday, July 24.