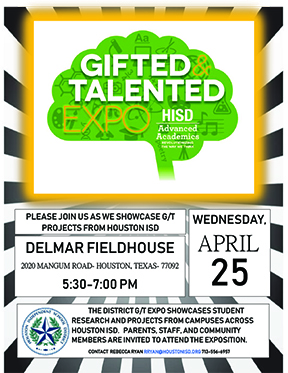 The first Gifted and Talented Exposition in 15 years will take place on April 25 from 5:30 to 7 p.m. at Delmar Fieldhouse (2020 Mangum, Houston 77092). Pre-K through 12th-grade gifted and talented students from across the district will present more than 450 research projects from 167 schools.
"We are excited to allow our GT students the chance to showcase their work to the entire HISD community," said Advanced Academics Officer Adam Stephens. "This event is the culmination of a year of hard work for our students, and the products that they have produced will reflect that." 
The state of Texas requires gifted and talented students to participate in high-level research throughout the year. This student-directed research culminates in a research project that participants will present in a three-minute synopsis at the exposition.
Individual schools will have tables displaying student projects, and their students will be presenting the results of their research to visitors.
"Giving students the opportunity to engage in project-based learning makes learning 'sticky' for students," said T.H. Rogers Dean of Instruction Jessica Willie. "It's hands-on, minds-on. Students engage with content in a way that embeds higher-level thinking skills and makes their thinking and learning visible to others."
This event is free and open to the public. Advanced Academics encourages family and community members to come and see the results of these students' hard work.
For more information, contact Rebecca Ryan at RRyan@HoustonISD.org.