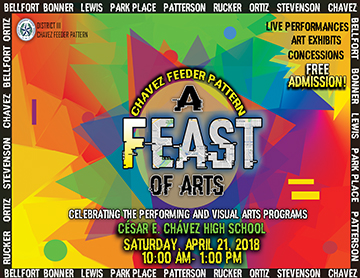 The second annual Feast of Arts for schools in the Chavez feeder pattern will take place from 10 a.m. to 1 p.m. on Saturday, April 21, at Chavez High School (8501 Howard, Houston, 77017).
Last year, the Fine Arts Initiative in District III started with the Chavez Feeder Pattern, and this year, it is expanding to include the Milby Feeder Pattern.   
"Building on the enthusiasm and creative talents of the students showcased last year, this year's Feast of Arts promises to be engaging and most of all, inspiring!" said Dr. Sabrina Nguyen, HISD's fine arts specialist in the East Area Schools Office. "These students have tremendous abilities, and nurturing their talents is our mission. The District III Fine Arts initiative is the spark that is moving both teachers and students toward excellence."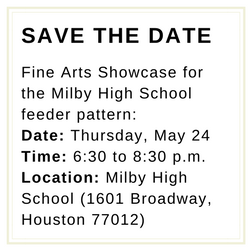 The showcase will feature live performances in the Chavez auditorium and Commons and will include Ballet Folklorico and other forms of dance, theater, choir, band, mariachi, jazz, orchestra, and more. Participating schools are Bellfort Early Childhood Center; Bonner, Lewis, Patterson, Park Place, and Rucker elementary schools; Ortiz and Stevenson middle schools; and Chavez High School. In addition, the schools will be selling concessions to raise funds to support the fine arts.
A wealth of visual arts by students will be on display as well, and attendees are also invited to join a visual arts tour led by a teacher. New this year are arts activities that attendees can participate in, including crafting a vessel on a pottery wheel and creating a painting with watercolors.
"I was also truly impressed and touched by the magnificent choral performance by the District III Honor Choir," said District III Trustee Sergio Lira after last month's Honor Choir concert at Chavez High School. "Rest assured that I will do everything I can to maintain and strengthen this tradition in my district."
Fine arts teachers have been collaborating with the Houston Symphony, Houston Ballet, Houston Grand Opera, and Houston Youth Symphony. In addition, teachers have been taking advantage of professional development sessions that include all grade levels and specialties, which ensures that the fine arts will be sustained and supported at the secondary level.
"It is so impressive to see our fine arts teachers collaborating to bring more arts and culture into our schools at all grade levels," said East Area Superintendent Dr. Jorge Arredondo. "The fine arts are vital to the development of the whole child. Encouraging their imagination and creativity impacts all areas of their education."
"During the last two years, Dr. Nguyen has brought resources and connections with art organizations to the East Side to work collaboratively with elementary and secondary schools," said Samuel Dominguez, principal of Ortiz Middle School, a performing and visual arts magnet. "For many years, our schools suffered from a lack of resources to effectively promote the fine arts."
East Area parents are impressed by how the fine arts are creating enthusiasm in their children by giving them something they look forward to at school.
"My fourth-grader, Brihanna, who attends Lewis Elementary, was privileged to be part of the District III Honor Choir," said Shannon Mitchell. "She learned the value of working with others and she now understands how much work and dedication is required to prepare for a concert. This beautiful performance brought many parents to tears."