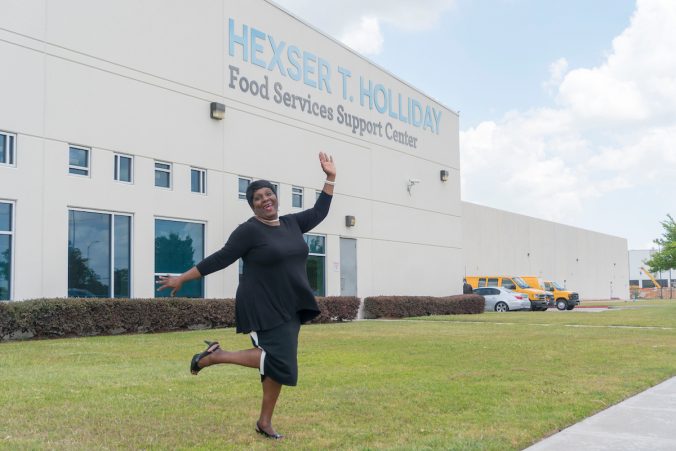 Nutrition Services' longest serving employee, go-to historian, and source of knowledge for all things food services is retiring in a few short weeks, after 45 years of service.
Charlotte Blocker serves as the executive administrative assistant to Nutrition Services Officer Betti Wiggins and is known for her positive attitude, witty humor, and friendly demeanor.
"It doesn't seem like I've been here that long," Blocker said.
She stepped into HISD's Food Services department as a fresh faced new-hire in March of 1972 as a clerk. Little did she know, it was just the beginning of a long-running tenure and lasting impact on the department.
Blocker has served under seven department heads, relocated with the department three times, received five promotions and has built and nourished countless friendships and professional relationships along the way.
In the 45 years she has worked in the department, Blocker has witnessed changes in the way the department carries out its mission. She recalls employees having to manually calculate the poundage of food being placed on delivery trucks, something that is done by computer in a matter of seconds today. She also recalls the department purchasing it's very first fleet of delivery trucks.
"The evolution of the menu has been one of the most significant changes I've had the fortune to witness," Blocker said. "Students are now more health conscious, so we have a larger variety of menu items available to them."
Among her proudest memories happened in December 2017. Blocker took part in the naming of the department's 220,000-square-foot facility in honor of Hexser T. Holliday, the district's first African-American to lead the department. She was front and center at the building dedication ceremony, celebrating with Holliday, her former supervisor and now friend.
"I was proud to have worked with Mr. Holliday. He was an enthusiastic and confident leader who was passionate about his work," Blocker said. "The honor was well deserved."
Many colleagues widely consider her the mother hen of the department, often providing an inspirational word, a little comic relief, or even a loving hug when needed.
"We are one big family. We share in each other's accomplishments, support one another in times of pain and sorrow, and celebrate each other in joyous and happy moments," Blocker said.
With the end of the school year approaching, Blocker is getting ready to sign off her computer for the last time on May 31, her last day.
A celebration in honor of her dedication to the department is scheduled for Thursday, May 31, her final day as an HISD Nutrition Services employee.