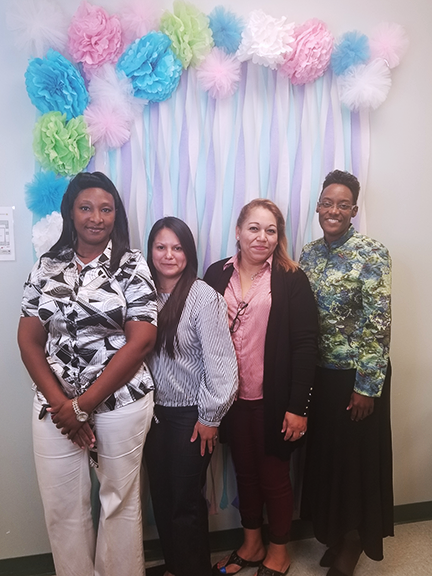 After eight weeks of rigorous classroom and on-site training, four former food service attendants are now prepared to lead and manage their own school cafeterias.
Stephanie Aguilar, Alma Dominguez, Neco Manning, and Tameco Williams are the first graduates of Nutrition Services' LEAD — Leadership, Education And Development — Program.
The comprehensive training initiative is designed to provide school cafeteria workers with the in-depth knowledge and skills needed to advance to the next level in their career and become a team lead responsible for managing cafeteria operations.
"Tenacity is the word that comes to mind when I think of you four," Nutrition Services Trainer Maggie Kennedy said to the inaugural class before presenting them with certificates during a recent ceremony. "I am so proud of you all and the example you have set for the program."
The LEAD program is designed to teach employees both the technical and leadership skills needed to manage a school cafeteria. The curriculum covers a wide range of topics, ranging from building a relationship with the school principal to managing food costs. The program will be held twice a year.
All LEAD participants must meet a strict set of criteria and be recommended for the program. Once accepted, they are required to pass a series of tests to demonstrate their understanding of the topics covered.
"You went through the rigor. Now you are practitioners," Nutrition Services Officer Betti Wiggins said, as she congratulated the graduates. "You are on a long journey. You went through the hard work and now you have to demonstrate the craft consistently. Be the best that you know you are."