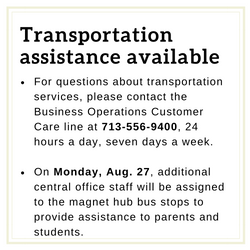 As the start of the 2018-2019 school year nears, Transportation Services is introducing a new tool to help parents determine their child's school bus stop location and route number.
Parents and students can go to the Infofinder I website, enter their address, and then see a map of the bus stop assigned to their student, as well as their route number. Magnet students who use the system will be able to see their designated magnet hub location listed on the map.
Magnet school hub program to allow direct commutes to campuses
Also available through the system is the bus arrival and departure time for each stop.
"Infofinder I is a great way for us to get pertinent information to parents in real time," Transportation Services General Manager Tim Brown said. "As routes are updated and changed, so is the system. This is key as we focus on providing the best and most efficient service for our students."
Because the system is still being implemented, some students are still in the process of being assigned routes. As new routes are assigned and updated, impacted families will be notified by a phone message that directs them to Infofinder I for more detailed route information. All changes and updates will be made weekly on Mondays.
As in previous years, Transportation Services also is continuing to notify students of their assigned routes and bus stops through postcards distributed through the mail. However, the online system allows the district to more efficiently update students and parents when routes are updated or changed.
Also being launched this year is Safe Stop via Zonar, a GPS system that will allow parents to track their child's bus in real-time. The program is being piloted in a limited number of schools before being rolled out districtwide.
Both Infofinder and Safe Stop via Zonar are part of Transfinder, a new internal routing software that aims to increase route efficiency. Together, the initiatives allow the district to track bus ridership and make route changes accordingly throughout the year. Their implementation is part of Transportation Services' continued effort to ensure students are at school every day on time and ready to learn because they have safe and reliable transportation to and from campus.
Parents and students with questions about their bus stops, routes, or magnet hubs should contact the Business Operations Customer Care call center at 713-556-9400. The call center is staffed 24 hours a day, seven days a week.