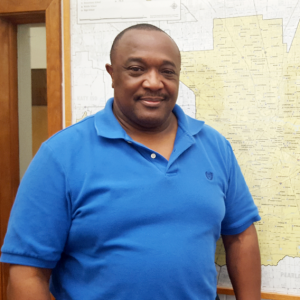 When Hurricane Harvey hit, Facilities Services Security Maintenance Dispatcher Kenneth Johnson left behind his home and relocated to the Hattie Mae White Educational Support Center, where he could monitor and serve the district.
"It was kind of scary," Johnson said, recalling images captured on security cameras when the storm hit. "Water was going up the hallways."
As the flood waters rose, some HISD locations lost their security camera feeds, but Johnson kept calm and helped organize response logistics, which included determining where to send technicians for maintenance.
"I saw the water rising and schools getting inundated and damaged," Johnson said. "I had to decide where the help was mostly needed. It was hard."
As many across the city take time to reflect on the anniversary of Hurricane Harvey, Johnson said he wouldn't change a thing about those days during and after the storm. In fact, he said he'd volunteer again, if needed.
"I believe in helping whoever needs to be helped," Johnson said. "I am a team player and try to go above and beyond. For us, security is always our priority."
Today, Johnson's outlook on the future remains optimistic. With hurricane season underway, he continues to keep a watchful eye on the district and its schools, ready to respond to any dangers that may arise. And this time, he said, he feels more prepared because he now knows exactly how to react and where to send help.
"We want our technicians and schools to always be safe," Johnson said, noting that the district maintains roughly 1,000 cameras.
"It's a handful, but it's our role as dispatchers that our technicians and facilities are safe inside and out," Johnson said. "It's a lot of work, but we manage. We always do."