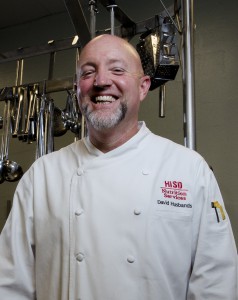 As the start of the school year approached in August 2017, Nutrition Services Executive Chef David Husbands was energized and ready for a new year full of promise.
The department was prepared to take on the school year without the management of Aramark and it was armed with new recipes, a newly-installed nutrition officer and a bold vision for school meals in HISD.
Instead of welcoming students back on the first day of school, Husbands and his team stepped in as first-responders, providing hot meals to communities who had limited access to food.

Amid the madness caused by Hurricane Harvey, Husbands had to evacuate his southwest Houston home near the Brazos River the morning after the storm made landfall. Once his family was safe, Husbands went right back to work.
Thankfully, Husbands already had an emergency plan in place in preparation for the storm.
Husbands and his team had already purchased a surplus of staple goods which were strategically stationed at school sites throughout the district in case of a hurricane. The Nutrition Services department had stocked their production facility warehouse with thousands of bottles of water prior to the storm — a lesson learned from Hurricane Ike.
"Since Hurricane Ike, we have learned to plan and prepare for storms," Husbands said. "Even though the magnitude of this storm was much greater than Ike, the plan we had in place allowed us to move quickly to get food and water to the community."
Despite their preparations, Husbands said it didn't take long to realize that much more would need to be done. He and his staff took to the phones immediately, spending nearly 13 hours a day calling as many vendors as they could to procure food items.
Within days, he and his staff of about 40 employees had a full emergency feeding operation up and running servicing hot breakfast, lunch, and dinner meals at nine school sites. The feeding sites were later relocated to community locations as schools re-opened.
Looking back, Husbands still can't believe what he and his team were able to accomplish.
"I am very proud to be a part of this Nutrition Services team," Husbands said. "Despite the dire situation, everyone leaped into action to feed our community without hesitation. And we eventually got our school kitchens back up and running so our students would have a guaranteed meal in a comfortable and safe environment."