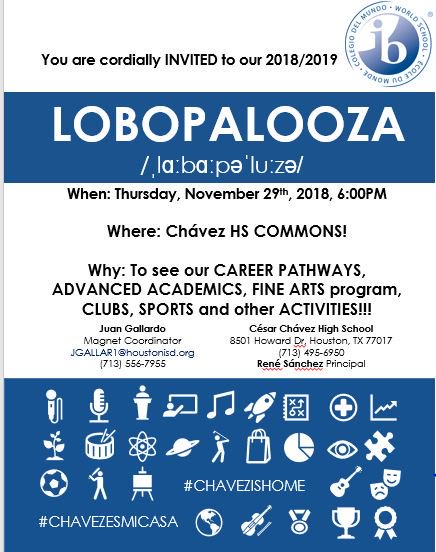 Campus is accepting magnet student transfers for 2019-2020 school year
Chavez High School on Thursday will hold its annual Lobopallooza magnet program showcase event for prospective students and their parents.
The event, which will run from 6 to 7:30 p.m. at the campus (8501 Howard Dr., 77017), coincides with the Houston Independent School District's approaching deadline on Dec. 7 for the first round of 2019-2020 magnet school applications. Lobopalooza is an open-house event for prospective students that highlights the programs and activities that will be offered at Chavez during the 2019-2020 school year.
Attendees will have the opportunity to meet Principal Rene Sanchez, teachers, current students, faculty and staff to explore the school's Science, Technology, Engineering and Mathematics (STEM) career pathways. Associate's degree programs, International Baccalaureate Diploma Programme, fine arts courses, sports teams and clubs also will be highlighted.
Chavez is currently accepting students via magnet or International Baccalaureate transfer.