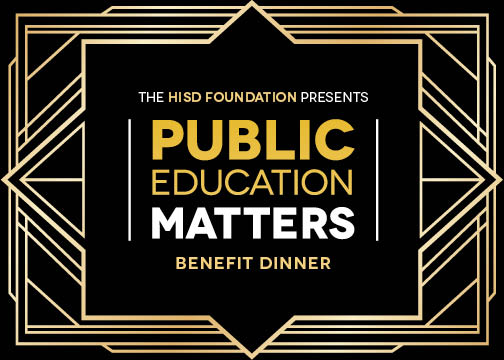 One lucky HISD senior will have the chance to show off their emcee skills and win a college scholarship at the HISD Foundation's 2019 Public Education Matters Benefit Dinner.
The winning student will host the event on Tuesday, March 5, and will earn a $2,500 college scholarship. This year's master of ceremonies will host a crowd of over 1,500 at the Hilton Americas Hotel in Downtown Houston. Attendees will be a who's who of the city, including elected officials, notable community members and business leaders.
"We are excited to include one of the district's own students in the evening's events," said HISD Chief Development Officer Ann Best Scott. "I can't think of anyone better to serve as emcee than a student who directly benefits from public education." 
High school seniors interested in emceeing the event are encouraged to submit a short audition video via the HUB. Seniors can upload their audition videos into a dedicated course called "Public Education Matters."
Prospective emcees will be judged on speaking ability, creativity, and personality. The audition video cannot exceed 2 minutes and 30 seconds. Video auditions must include:
Personal Introduction (30 seconds)
Provide a 30 second introduction of yourself.  Include your name, age, school, post graduation plans, and any other information you'd like to include about yourself.
Introduction of Speaker (1 minute)
Choose one of the following people to introduce: your campus principal, Houston Mayor Sylvester Turner, or a notable alumnus from Your School
Ad-lib to cover time for a technical difficulty (30 seconds)
As an emcee, you may need to keep the audience engaged for longer than expected due to technical difficulties. In this 30-second slot, show us your personality and ability to engage an audience.
Introduction of an Act (30 seconds)
Introduce an upcoming musical, dance, or theatrical act from any HISD school.
Deadline for submission is Monday, Jan. 14. For questions or if you have any problems, please email instech@houstonisd.org.
The benefit dinner, presented by the Houston ISD Foundation, is an opportunity for business and civic leaders, parents, teachers, and administrators to hear about district achievements from the past year and the challenges and opportunities that await public education. This will be the first year for the evening event, which is being held in lieu of HISD's annual State of the Schools luncheon.