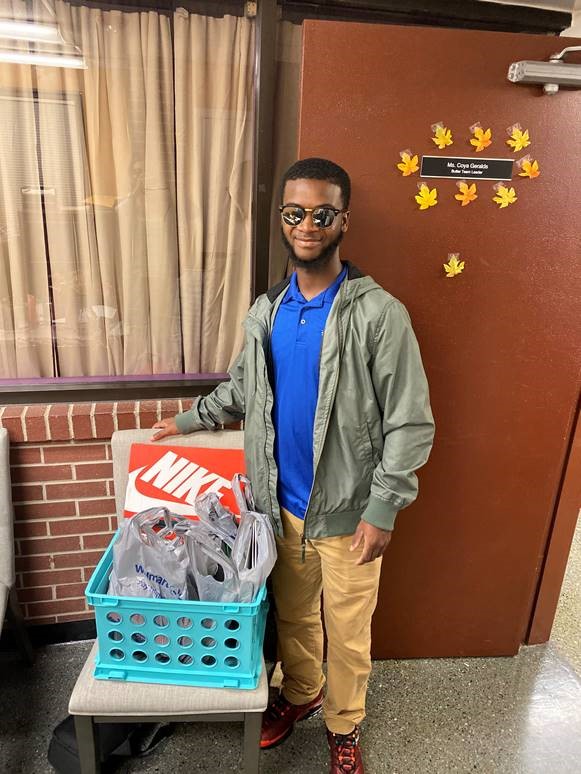 As a bus driver for the Houston Independent School District, Ethan Sowell knows his mission focuses on providing students with safe and reliable transportation to and from school.
But for Sowell, his job isn't just about driving a bus. It's about making a difference.
"Children can't do anything about their situation," Sowell said. "Somebody has to look out for them."
That's just what he did earlier this month when he noticed a student on his route had become especially quiet and withdrawn and appeared self-conscious, especially about his clothes.
He immediately took action, presenting the student with a bright blue crate filled with new clothes, tennis shoes, undergarments, and personal hygiene items.
"I want them to know that they have to keep pushing forward and not give up," said Sowell, who has served as an HISD bus driver for less than a year. "I picture myself or my siblings in that situation, and I know I would want someone to do the same."
This is not the first time Sowell has gone above and beyond to support student growth and learning. When another student could not afford to go on a field trip to Six Flags last year, he paid for her ticket and bus fare and gave her extra money to spend when she got there.
"This warms my heart," said Transportation Services Team Lead Coya Geralds, who is Sowell's supervisor. "We love to see our bus drivers doing kindhearted, amazing, and virtuous things."
Sowell said his goal is to encourage students who may be going through difficult times, and he hopes his actions will inspire others.
He said he already is planning his next act of kindness — buying a jacket and new shoes for a student who he picks up each day from a homeless shelter.
"If you see someone who needs help, don't hesitate," Sowell said. "There's never a wrong way to do it."