Although he is more of a "face-to-face person," Energized for STEM Academy valedictorian Michael Duru is excited to be at the top of his class during this time of virtual learning.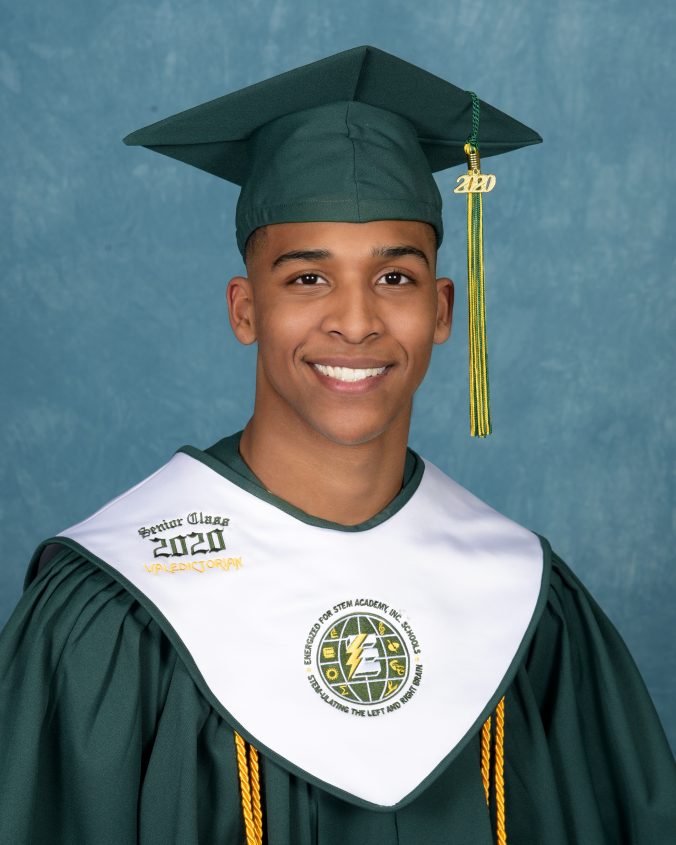 "The circumstances under which this is happening aren't great, but I feel somewhat special to be part of something that has never happened before." Duru said.
A natural leader, Michael encourages his fellow students to participate in the online school environment by joining in virtual class discussions.
"I've been able to help lead my class by reaching out to other students via text and being as active as possible in class group chats," he said. "I welcome this change as a way to stay connected with my peers and encourage them to finish the year strong."
Michael will be the first in his family to go to college when he leaves for the University of Virginia, where he plans to major in computer science and business administration. As an EMERGE student, he will have much-needed support during his first year, as he is the first in his family to attend college.
Michael has come up with an effective daily routine for home-based education that has been working for him. "I wake up at around 7:30 a.m. and eat a quick breakfast so I am ready for my first online class. I open the blinds to put me in the right frame of mind before entering 'class.' I take a few minutes to review the topics discussed in the previous lecture. Classes go by quickly, as they are packed with information and assignments. After each class, I check out and check into the next class. Classes are scheduled just as they were but are shorter, so I use the extra time between classes to get ahead on assignments. This continues until 3 p.m., when most classes end."
Even though Michael is making it work, there are challenges involved in being a virtual student.
"The hardest challenge for me is not having the support of my friends. Having other students my age made the learning process enjoyable. Bouncing ideas off each other, as well as helping one another on assignments, made the experience more fun. Online classes lack the intimacy and directness of in-person instruction. I am someone who loves to ask questions, and now my classes feel a bit disengaging."
Michael's father is from Nigeria, and his mother is from El Salvador. He enjoys running, playing the piano and, before the pandemic, participating in the Energized for Excellence marching and jazz bands.