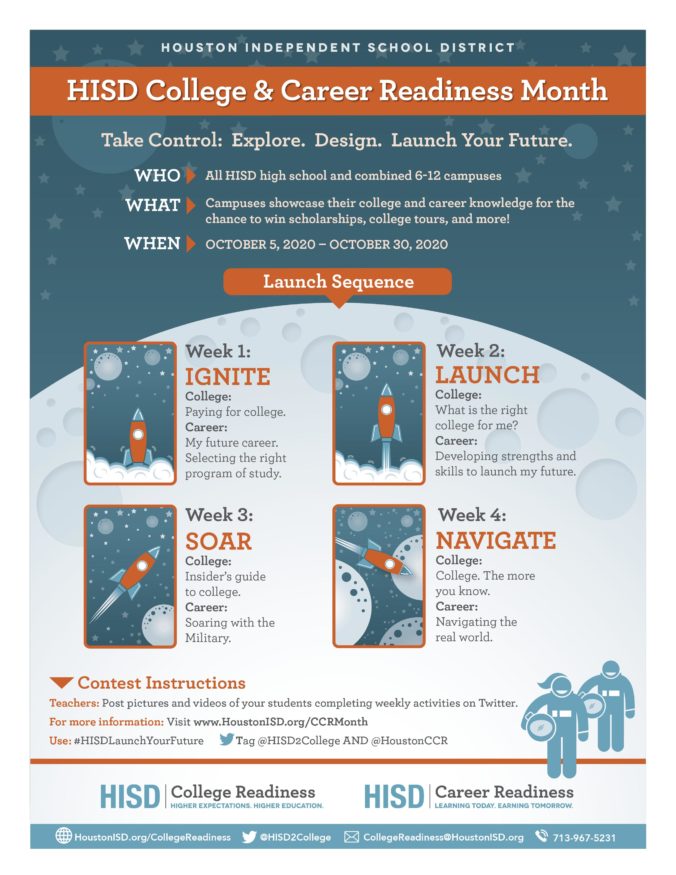 The Office of Strategy & Innovation is excited to announce HISD's third annual College & Career Readiness Month (CCR Month) in October.
CCR Month is a fun and creative way to engage students and introduce them to a variety of college and career options. This year's theme is "Take Control: Explore. Design. Launch Your Future!" Each week of the month will highlight a specific CCR theme, including:
Week 1: IGNITE – Paying for college and selecting the right program of study.  
Week 2: LAUNCH – Choosing the right college that will develop future skills.
Week 3: SOAR – An insider's guide to college and learning to soar with the military.
Week 4: NAVIGATE – The more you know will help navigate the real world.
Throughout the month, HISD will be sharing information on a variety of college and career programs and activities for all grades.  All HISD high school campuses will have a chance to compete for prizes (scholarships, college swag, college tours) by showcasing their college and career knowledge on social media.
Campuses must complete at least one college and career activity each week, posting pictures and videos on Twitter using #HISDLaunchYourFuture and tagging @HISD2College, @HoustonCCR, and @Houstonisd. Contest details can be found on the Career Readiness website, as well as the College Readiness website.
Students and staff are also encouraged to wear college apparel on Fridays during the month of October. Watch for more stories in October regarding College & Career Readiness Month activities.