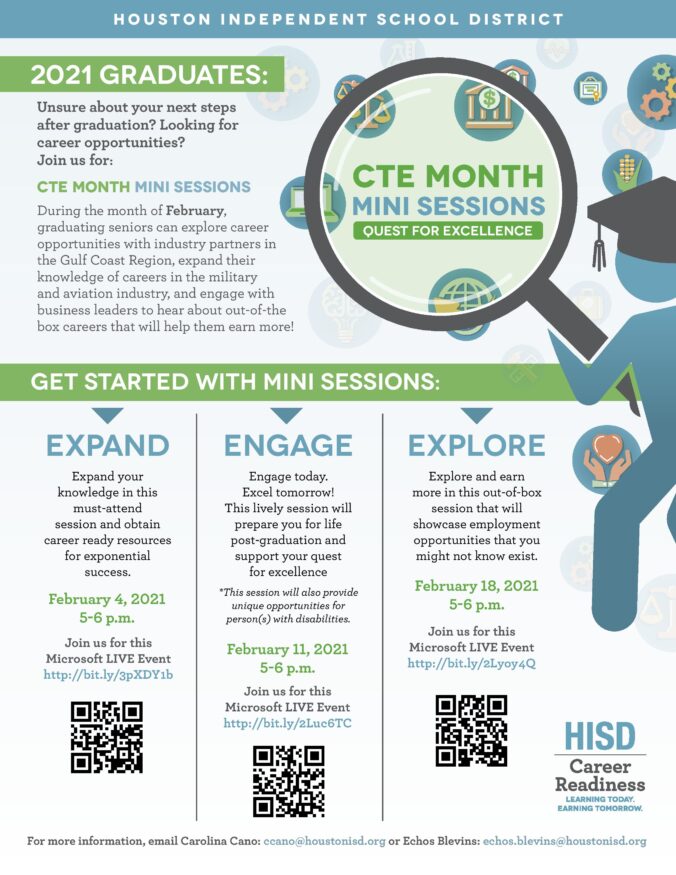 February is Career & Technical Education Month, and graduating seniors have the opportunity through HISD's Career Readiness department to explore career opportunities.
Students can network with industry partners in the Gulf Coast Region, expand their knowledge of careers in the military and aviation industry, and engage with business leaders to hear about out-of-the-box careers that will help them earn more.
Career Readiness is offering three mini sessions in February to expand, engage, and explore career opportunities. These sessions take place in the evenings from 5-6 p.m. on Feb. 4, Feb. 11, and Feb. 18. See this flyer for more information and to register.
Seniors to Success 2.0
Seniors, are you ready for the workforce? If not, join Career Readiness for a virtual hiring event from noon to 2 p.m. on Thursday, Feb. 25. Learn more about strategies and tools for success and meet employers and hear about job openings.
Student registration is required. See this flyer for the link to register. A link for the TEAMS meeting will be sent after you register.
For help with any of these events, please contact Carolina Cano at ccano@houstonisd.org or Echos Blevins at echos.blevins@houstonisd.org.
Career Tip Tuesdays
Join the watch party every second and fourth Tuesday for a mini-lesson to help with career preparedness. Topics include preparing for a job fair and virtual interview 101. See this flyer for more information. Subscribe to the HISD CTE Career Advisors YouTube channel for helpful career videos. Visit the Career Readiness website for additional resources and information on careers. See this page for Career Exploration tools and links.