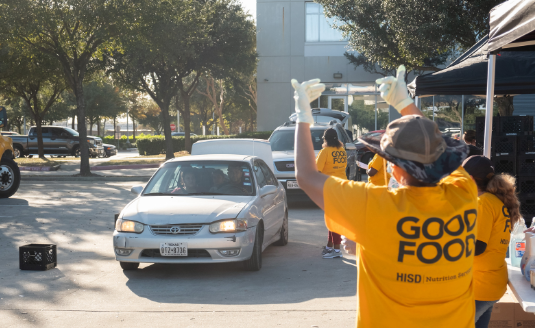 The Houston Independent School District is opening a sixth Neighborhood Supersite at Butler Stadium in Southwest Houston to better serve families across the city.
The move is part of an ongoing effort to streamline student meals and community distribution efforts and focus food and resources at sites where the need is greatest.
The Neighborhood Supersite at Butler Stadium, 13755 Main St., will operate on Saturdays from 10 a.m. to 1 p.m., beginning this Saturday, Feb. 6.
Neighborhood Supersites provide a week's worth of student meals as well as various food and household supplies for the community. They operate on Wednesdays and Saturdays. Times and locations are listed below.
Wednesdays from 2 to 6 p.m.
Barnett Stadium, 6800 Fairway Drive
Saturdays from 10 a.m. to 1 p.m.
Almeda Elementary School, 14226 Almeda School Road
Butler Stadium, 13755 Main St.
Hattie Mae White Educational Support Center, 4400 W. 18th St.
Hexser T. Holliday Food Services Support Center, 6801 Bennington St.
M.C. Williams Middle School, 6100 Knox St.
Sugar Grove Academy, 8405 Bonhomme Road
Student meals are available at no cost to students ages 1 to 18. If children aren't present, families must have a birth certificate or proof of enrollment in any district for each child needing meals.
For an up-to-date list of distribution times and locations, visit HoustonISD.org/StudentMeals. Families should check the website for temporary closures before going to a location.