Stationed in the hallway near the cafeteria, Sam Houston Math, Science and Technology Center junior Christopher Nazario ate his favorite breakfast cereal while going over the previous night's homework on his laptop.
Like many across the country, the Nazario family budget took a recent hit from the COVID-19 pandemic. Having access to a healthy school breakfast served at no charge was a big help.
"Eating breakfast here helps my family, and it helps me because I can use the time in the morning to do homework," Nazario said. "I know they offer a lot of different items for breakfast each morning. I hope they will serve pancakes sometime soon."
National School Breakfast Week kicks off today (Monday, March 8) with the theme Blast Off with a Healthy School Breakfast. Nutrition Services is celebrating the week by shining a light on the role school breakfast plays in student success.
Among the efforts is a Student Art Contest, which encourages students to think about the importance of breakfast and create original art tied to the theme. Contest rules available at HoustonISD.org/Nutrition.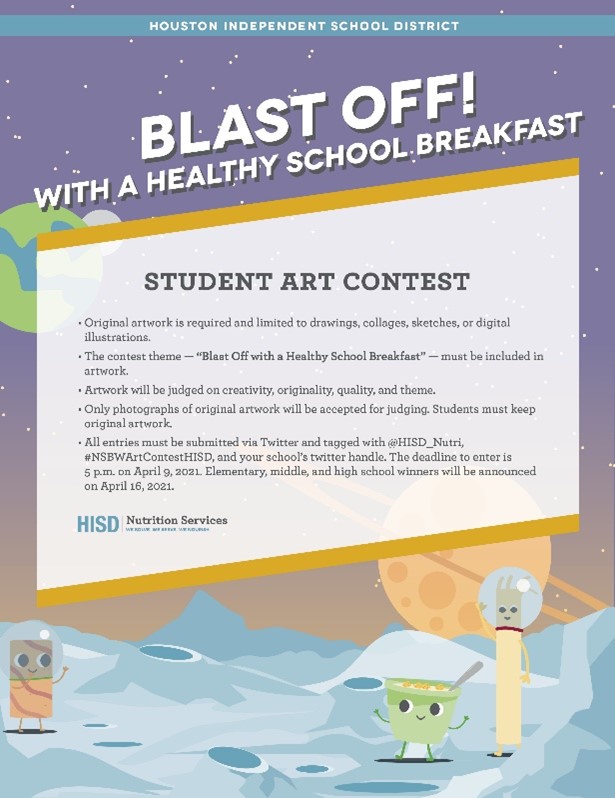 HISD officials said the celebratory week is especially poignant this year, as many Houston families continue to deal with economic hardships and food insecurity resulting from the COVID-19 pandemic and recent winter storm.
"Food insecurity has long been an issue in our city. Hungry students can't learn," Interim Superintendent Dr. Grenita Lathan said. "Our students need a healthy breakfast to fuel their learning — whether they're in school or at home. I'm proud of this team for making that a priority."
Sam Houston Sophomore Abiel Parra said he appreciates the cafeteria staff who arrive early to prepare breakfast. A frequent customer and chicken biscuit fan, Parra said school breakfast gives him the energy needed to go to class and get work done.
"Most mornings we are in a rush to come to school and me and my two brothers don't have time to cook," Parra said. "If we don't eat breakfast at school, we might not have anything to eat all morning."
Studies show that students who eat school breakfast achieve more in reading and math and have improved concentration and alertness.
HISD parent Nancy Sosa said she's thankful for the curbside student meal pickup, which has helped her ensure her two young children start every day with a healthy breakfast.
"Many students have a fear that their families will run out of food. But at school they feel like there is enough to eat," Sosa said. "I am grateful that the curbside pickup can help me take care of my kids with food that is nutritious so they can focus in class."
For more information on HISD's school meal program, visit HoustonISD.org/StudentMeals.