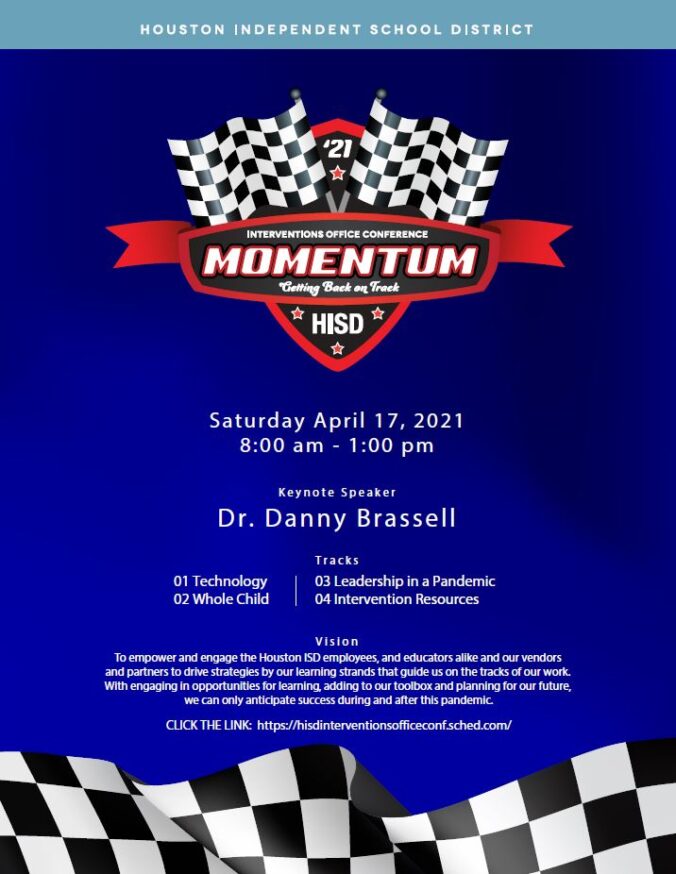 The HISD Interventions Office is set to host its inaugural conference on Saturday, April 17, from 8 a.m. to 1 p.m.
Designed for both HISD employees and educators across the country alike, the one-day, virtual conference will focus on educational interventions for suffering students and other assistance for special populations.
The theme of the conference is Momentum: Getting Back on Track, and will have four different tracks. The four tracks are:
Technology: developing responses to providing instruction, learning opportunities, and tools in a pandemic.
Whole Child: fostering a learning environment with empathy, creativity, and engagement that support the needs of a diverse learner.
Leadership in a Pandemic: creating accommodations for virtual learning, supporting staff members, moral, engaging parents.
Interventions Resources: implementing independent learning opportunities and strategies for ongoing success.
According to Interventions Office Director Dr. Cicely Bailey, this conference is aimed at preparing educators to act as soon as they are needed with a student intervention.
"We cannot wait for a set intervention time to provide interventions," Bailey said.
Registration for the conference is free, and HISD employees will be eligible OneSource credit. All attendees will also receive a certificate of attendance.
Conference Coordinator Mallary Lattanze says the Interventions Office is excited to share how HISD is moving students forward on their educational paths.
"We are looking forward to sharing the momentum of what our district has to offer students in intervention," Lattanze said.
You can register for the Interventions Office Conference at hisdinterventionsofficeconf.sched.com/