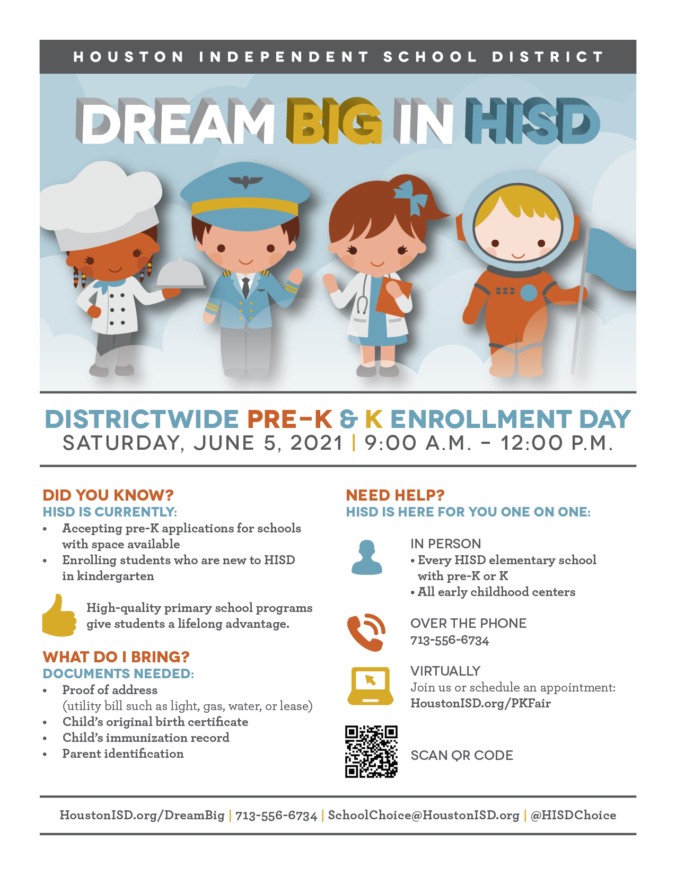 With pre-K applications currently open and Kindergarten enrollment underway for the 2021-2022 school year, Houston Independent School District is offering one-on-one support for parents seeking assistance.
To help families one-on-one, HISD is offering a Pre-K and K registration day on Saturday, June 5, 2021, from 9 a.m. to noon.
Families can get assistance one of three ways.
In person: Walking into any HISD elementary school or Early Childhood Center with all required documents
Phone: Calling the HISD hotline at 713-556-6734
Virtual: Pre-registering at HoustonISD.org/PrekindergartenFair
Required enrollment documents include:
Proof of address (utility bill such as light, gas, water, or lease)
Child's original birth certificate
Child's immunization record
Parent identification
Support will be available virtually and on the phone in English, Spanish, Vietnamese, and Arabic.
Parents can submit pre-K applications online at HoustonISD.org/PreK. In addition, students new to kindergarten can enroll either online at HoustonISD.org/Enroll or simply by visiting their zoned elementary school.
Pre-Kindergarten follows the School Choice application process. Parents are advised to select back-up options if their first choice is not available.
For questions or further assistance, contact Office of School choice at (713) 556-6734 or by email at SchoolChoice@HoustonISD.org or HISD Early Childhood Education at (713) 556-6898 or by email at Curriculum@HoustonISD.org.