Wanda Paul, a veteran business operations officer and Houston native, has been named chief operating officer of the Houston Independent School District. Paul begins her new role on September 20.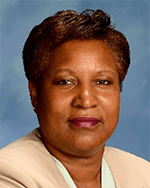 With a career spanning more than three decades, Ms. Paul brings a wealth of experience to HISD, including serving as chief operating officer for schools in Texas and Florida.
Most recently, she spent four years as chief operating officer for The School District of Palm Beach County in Florida. In this role, she oversaw more than 1,700 employees, 187 schools, and a $63 million capital budget. She also implemented a program to better track energy use and reduce utility costs. Before going to Florida, Ms. Paul served four years as chief operating officer for the Dallas Independent School District.
She began her career in public schools in HISD, working in various roles in operations and facilities both in HISD and later in the Spring Branch Independent School District.
Ms. Paul also served in a variety of leadership roles during her career in the U.S. Army. Ms. Paul earned a Bachelor of Arts in Government from University of Texas in 1986, a Master of Education from National-Louis University in 1994, and a Master of Business Administration from University of St. Thomas in 2005. She also graduated from the Atlantic's National Superintendent's Academy in 2019.
As HISD's chief operating officer, Ms. Paul will lead more than 6,000 employees from key public-facing departments, including transportation, nutrition, construction, and facilities. Her oversight includes a fleet of over 1,000 buses, a food service operation that serves thousands of meals daily, a $2.1 billion bond construction program, and maintenance of 30 million square feet of facility space in more than 300 buildings spread out.
"Ms. Paul's wide breadth of experience in both public schools combined with her love of her Houston hometown and passion for education make her the perfect candidate for this position as we look to take the district to the next level," said HISD Superintendent Millard House II.