Three HISD elementary schools were honored for their strong nutrition education programs with the Texas Department of Agriculture's inaugural Pear-fection Awards.
The award was created to acknowledge the hard work and dedication of campus nutrition teams and their efforts to provide students with access to fresh produce and encourage life-long healthy habits.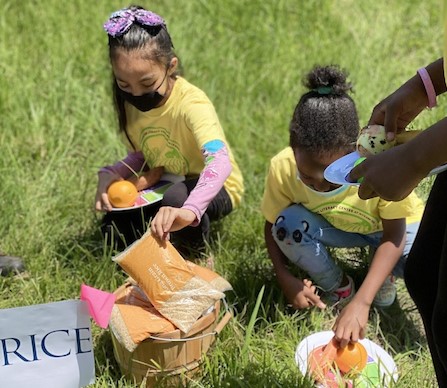 Codwell, McGowen, and Young elementary schools were among nine schools from five school districts across the state to receive the award for their efforts during the 2020-2021 school year.
Codwell: Grapefruit Chef Demo; Identifying and tasting the Texas state fruit
McGowen: Strawberry Salad Chef Demo; Learning about nutrients in a fresh salad
Young: Mykawa Farm Ag Day; Class scavenger hunt for produce and food facts
"It's wonderful when state officials recognize our Nutrition Services team members this way," Nutrition Services Officer Betti Wiggins said. "We know that students who eat well, do well in class."
The Fresh Fruits and Vegetable Program is a federally-assisted, invitation-only program providing free fresh fruits and vegetables to students in participating elementary schools during the school day. The program is designed to help schools create healthier environments by expanding the variety of fruits and vegetables available to students and promoting them as healthier food choices.
All schools participating in the Fresh Fruits and Vegetable Program were eligible to apply for the award.
"In HISD, our focus on nutrition goes beyond the plate," HISD Superintendent Millard House II said. "We know our students need healthy food to fuel their learning, but we also want to empower them to learn about food and make healthy choices. This award affirms that work."
The 2020-2021 school year marked HISD's first year of participation in the Fresh Fruits and Vegetable Program. Eighty-four HISD elementary schools participated, introducing students to fresh fruits and vegetables as healthy snacks. Five participating schools — the three winners plus Blackshear and Bastian elementary schools — applied for the award.
Winning schools were distinguished for their commitment to serve 10 fruits and 10 vegetables monthly, make the produce available three times a week, and offer locally sourced produce at least twice a month.
"It's important for all students to stay focused on their schoolwork," McGowen Elementary School Principal Jeffrey Whitaker said. "Fresh fruit and vegetable snacks from the program have been a great way to do that."
View a complete list of winners on the Texas Department of Agriculture Pear-fection Award website.