While many students aspire to be a famous YouTuber one day, Challenge Early College High School senior Maanav Gupta is already living the dream.
Gupta's "Maanav's Sports Talk" YouTube program doesn't look like it would be out of place on any primetime sports TV program. Gupta's program has the feel of a professional show. Recently he interviewed ESPN alum Rich Eisen, and then he was able to score an in-person interview with Astros all-star Jose Altuve.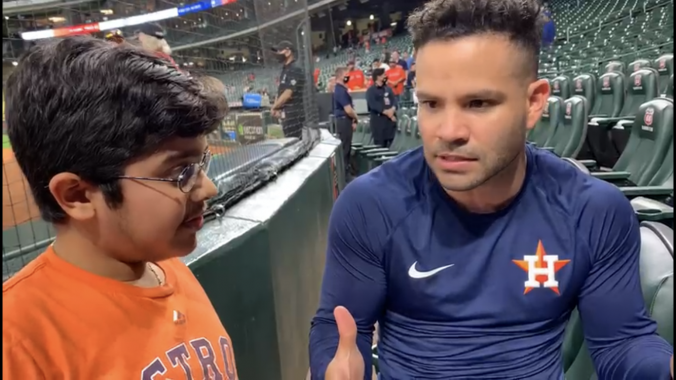 Gupta hustled to secure both of those big interviews. He reached out to Eisen on Twitter and coordinated with the Astros to interview Altuve, which ended up being the best birthday present ever for him.
"It was more of a lengthy process with asking the Astros for my chance to meet him, which has always been a dream of mine," Gupta said. "I sent that message on my birthday, and I had a chance to meet him pre-game and interview him for a couple of minutes."
Gupta took journalism at Challenge Early College and hopes to major in it next year at the University of Houston. After college, Gupta wants to continue doing play-by-play and wants to be the next Jim Nantz.
"I always wanted to be a sportscaster and do the live play-by-play you see on TV—to be that guy, so starting a YouTube channel helped me get experience," Gupta said.
Gupta is more than just a "YouTuber." "Maanav's Sports Talk" includes his expert opinions on the NBA, MLB, and NFL, but his interview skills help lend credibility to his show. He includes different types of episodes, including play-by-play livestreams of games, '5 Minutes With Maanav,' predictions, and his weekly NFL picks.
"Maanav's Sports Talk" hit YouTube in 2019, and since then Gupta has uploaded content regularly.
"I've seen other kids that just do gaming and are casual about it," Gupta said. "I want to be more formal since I want to pursue it in my career, so I try to be professional by having a proper setup like you see on TV and share my analysis in a proper way, not just some casual sports talk. I want it to be like an actual production show."