As part of Houston Independent School District's new five-year strategic plan, the district is taking the next steps to ensure there are great schools in every community while cultivating world-class talent at all levels.
In order to meet the commitment of permanently improving every D- and F-performing campus, HISD is transforming how it serves those students by launching the RISE transformation cohort beginning in School Year 2022-2023.

RISE will replace Achieve 180 as the action plan to better support, strengthen, and empower 24 underserved and underperforming campuses. A full list can be found here.
Three campuses have been designated as RISE Strong and will be implementing the Accelerating Campus Excellence (ACE) model:
Highland Heights Elementary School
Patrick Henry Middle School
Phillis Wheatley High School
What unique resources will RISE campuses receive?
A rigorous reapplication and selection process for RISE Strong leaders and teachers
Financial incentives for all staff ranging between $2,500-$25,000 per year for three years
High-quality curriculum materials and coaching for teachers
All students will be offered the opportunity to participate in an afterschool enrichment program. After school programming will include transportation and evening meal.
RISE campuses will also receive additional staffing allocations to support transformation work (assistant principals, counselors, wraparound specialists, instructional coaches).
Part of the transformation includes a talent reset for core school leaders. These campuses will be re-constituted, and all employee groups must indicate their intent to reapply.
The following recruitment and retention stipends will be offered to staff on RISE Strong campuses in Year 1: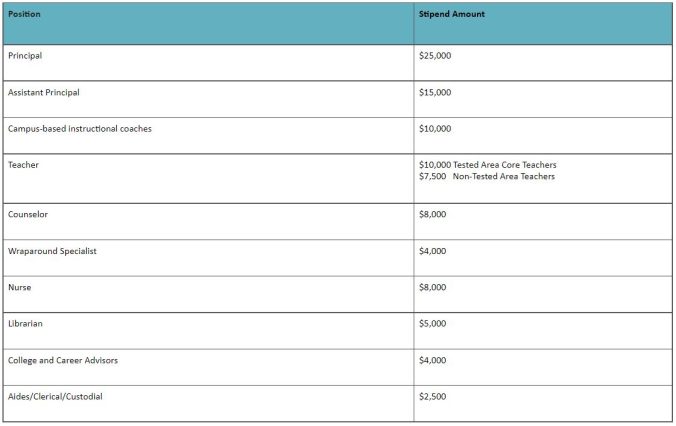 The following recruitment and retention stipends will be offered to staff on the rest of the RISE campuses in Year 1: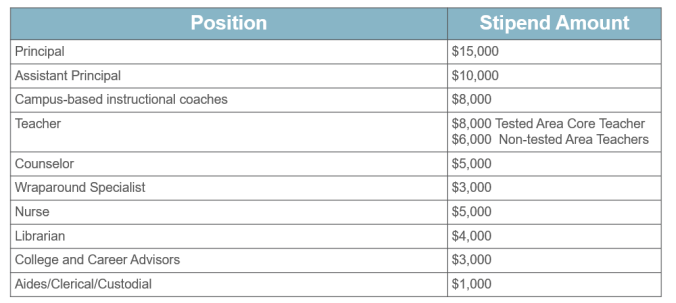 RISE schools will allow HISD to show that it is possible for all students to succeed, regardless of background. It is imperative that students of greatest need – those whose starting line in life is far behind their peers – have equitable access to effective educators and leaders to accelerate academically, socially, and emotionally.
To apply to be a RISE teacher, click here.
For more on how the district is committed to making HISD a great place for talented people to work and grow, click here.