HISD's Teacher Recruitment and Selection Team is hosting a major hiring event from 9 a.m. to 12 p.m. on Saturday, May 21, in person at Wisdom High School, 6529 Beverly Hill Lane, 77057.
This event is open to all qualified candidates.
Internal HISD teacher candidates pursuing administration positions are asked to register using their personal e-mail address and not their HISD e-mail. Current HISD teachers looking to transfer campuses are not eligible for this event, as the transfer window will be closed.
On hand will be school leaders from HISD schools looking to hire teachers, assistant principals, counselors, librarians, nurses, and pre-K teacher assistants for the 2022-2023 school year. 
Candidates, please register by clicking here. Once registered, if eligible, candidates will receive final details in a separate e-mail for the event after 3 p.m. on Friday, May 20.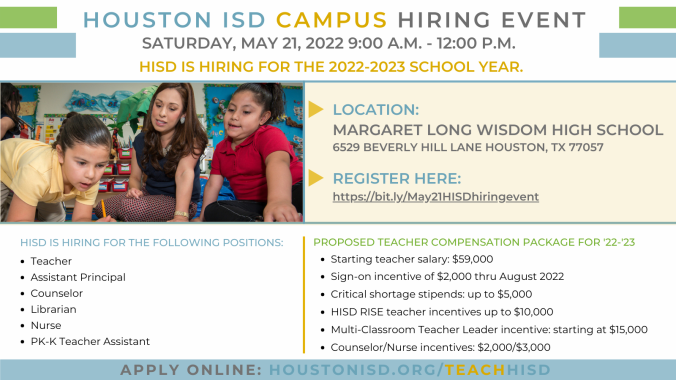 If you are having difficulty registering, please email Teacher Recruitment for assistance at teacherrecruitment@houstonisd.org. Send them your contact information and your resume.