Hundreds of students born outside the U.S. and their families attended HISD's 2022 DREAM Summit on Saturday, Dec. 10, at Hattie Mae White Educational Support Center. It was the first time the event hosted by College & Career Readiness and Multilingual Education was held in person since the COVID-19 pandemic.
The summit aims to help HISD DREAMers, DACA (Deferred Action for Childhood Arrivals) recipients, visa holders, permanent residents, refugees, and asylum grantees learn more about the college application process and financial aid requirements.
College & Career Readiness Executive Officer David Johnston spearheaded the creation of the summit five years ago after seeing firsthand the growing need for these resources. Johnston has been advocating for students born outside the U.S. since he became a teacher at Wisdom High School in 1996. Most notably, he was instrumental in the passage of House Bill 1403 in 2001, which provides eligible immigrant students with in-state tuition and Texas financial aid.
Johnston spoke about his decades of fighting for student pathways to higher education during the summit's opening presentations.
"Today, I want you to think not about my story, but I want you to think about your story because a few life-changing things can happen when you tell your story: you honor your past, you realize your strengths, and you free yourselves from limitation, whether those are your own limitations or those that've been assigned to you," he said.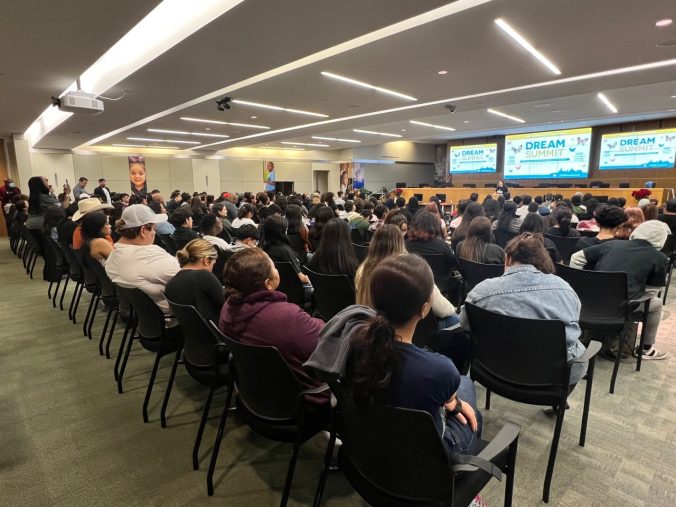 Another featured speaker was the 2022 Texas Poet Laureate and HISD educator, Lupe Mendez. Before holding a writing workshop for attendees, he recited two of his original poems that brought many to tears. His powerful call to action: "Please, keep dreaming."
The summit also included a panel of four recent HISD graduates. In addition to a Q&A session, they each shared testimony about their paths to college, how they adjusted to college life, working hard, and believing in themselves. Ultimately, their message to high school students was they aren't in this alone.
"When people care about you, that's what builds community, and that is the community that we need to continue to grow and move forward," said Elizabeth Stackhouse, University of Houston-Downtown Assistant Professor of Bilingual Education. "That's what this summit is all about—putting people together, connecting you with culture, so that you can get far ahead in life."
Admissions representatives from several community colleges and Texas universities were also on hand to answer questions and hold information sessions on the Texas Application for State Financial Aid (TASFA).
The summit also included confidential legal support and a financial aid application lab for seniors.
In an incredible display of diversity, the opening presentation concluded with a demonstration of the different countries that were represented at the summit, illustrating how the district serves students from all over the world.
Watch the 2022 DREAM Summit featured speakers, panelists, and presenters in the video below.