National School Choice Week (NSCW) 2023 runs Jan. 22-28 and aims to inform, inspire, and empower parents and caregivers to discover education options available for their children. Houston Independent School District has a variety of options across 274 campuses, including magnet and vanguard programs, career and technical education, early college, dual language, international baccalaureate schools, fine arts, and options for early childhood education and pre-K.
HISD schools hosting NSCW events:
Monday, Jan. 23
Friday, Jan. 27
Saturday, Jan. 28
HISD's School Choice application is currently open. The deadline to apply during Phase I is Feb. 2, 2023. Families will learn the lottery result the week of April 5, 2023.
Out-of-district applicants can apply during Phase I and will only be considered for seats after all in-district applicants have been accommodated.
Phase II runs April 5, 2023, through June 15, 2023. During that time, families placed on waitlists will receive offers as seats become available. All families will have an opportunity to apply to campuses with seats available in Phase II.
Families new to the district will be eligible to apply to School Choice campuses with seats available for enrollment in early August.
Visit www.houstonisd.org/schoolchoice to learn more.
Check out HISD's School Finder at www.houstonisd.org/FindASchool.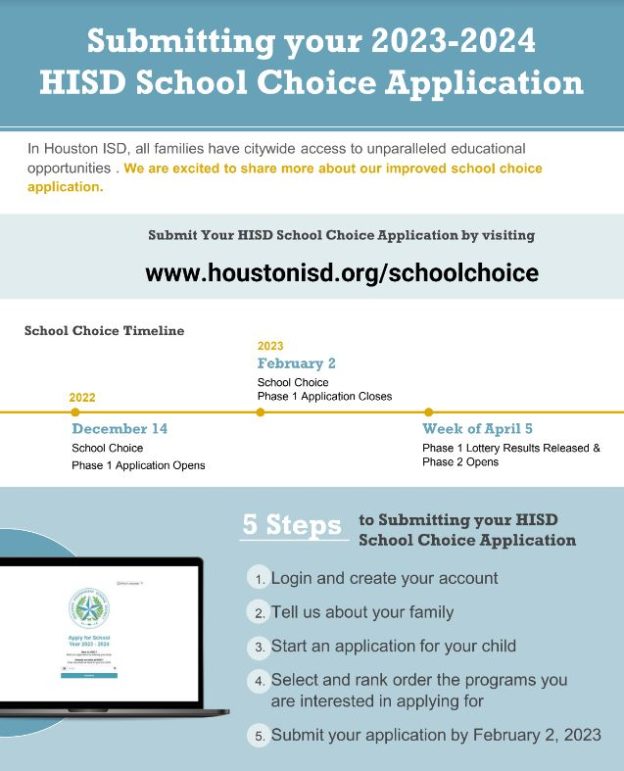 Follow School Choice on Twitter and Instagram @HISDChoice.