The Junior Reserve Officers' Training Corps (JROTC) is an old and illustrious program for high schoolers taught by ex-military instructors which focuses on history, citizenship, physical fitness, and developing a strong community identity. Though the program values discipline and structure, it is about much more than preparing students for military service. Only 10 percent of HISD JROTC cadets choose military enlistment, but 100 percent develop the confidence and skills necessary to adopt leadership roles post-graduation.
While JROTC is a program designed to prepare cadets for successful futures, it also prioritizes celebrating timely accomplishments and teenage milestones. This past weekend, Madison High School NJROTC (Navy JROTC) cadets enjoyed their annual Military Ball, the JROTC's answer to prom with a twist of military tradition. The Military Ball is a dance held in honor of Prisoners of War and Soldiers Missing in Action where cadets enjoy a formal evening in celebration of the challenges and triumphs of the school year.
On Saturday, Madison cadets and their invited guests participated in multiple time-honored traditions which included a "toast" to military leaders and those who serve as well as superlatives where the cadets were honored for showcasing great personal responsibility and above-and-beyond performance throughout the school year.
"The vast majority of our cadets graduate at the top of their class, go on to college, and enter the workforce with a valuable set of attributes: unimpeachable character, a strong work ethic, and the ability to lead projects and people," said Cornell McGhee, Director of JROTC Programs for HISD. "They become doctors, lawyers, teachers, public servants, and community advocates. Many graduate from West Point, while others attend some of the most prestigious universities in the world. JROTC not only prepares them to succeed in a competitive global economy, but it also helps them earn scholarships to cover their higher education."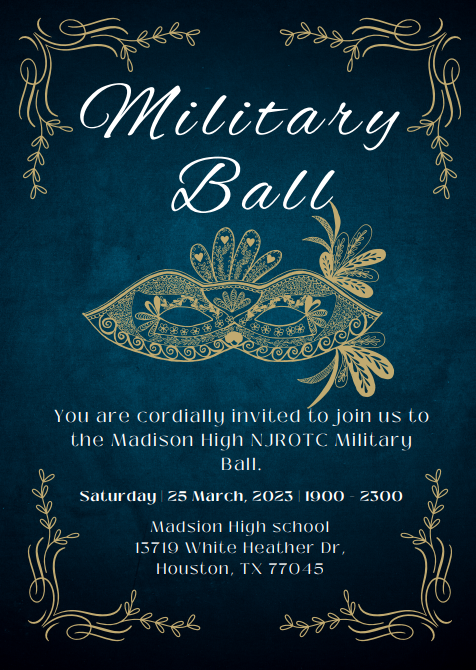 At the Madison Military Ball, the Battalion Royal Court was announced with cadets being named Lord and Lady, Duke and Duchess, Prince and Princess, and King and Queen, the Military Ball's version of prom court. The cadets also honored and acknowledged their senior classmates for their service to Madison's JROTC program and recognized special teams and commanders for their guidance and dedication.
The Madison NJROTC program stresses the importance of teamwork and discipline, but at the end of the day, instructors and organizers know well that their cadets are young people readying to enter a world of challenges unique to their generation. The program offers cadets the opportunity to be teenagers enjoying a school dance while at the same time developing important life skills in a safe and nurturing environment.
To learn more about HISD's JROTC program, visit their website. Fore more information about College, Career and Military Readiness for high school students, visit the CCMR website.