The NCAA and Houston Local Organizing Committee have teamed up with HISD to bring a fun-filled weekend of events to Houston families in celebration of the Men's Final Four National Championship taking place April 1-3, 2023, at NRG Stadium.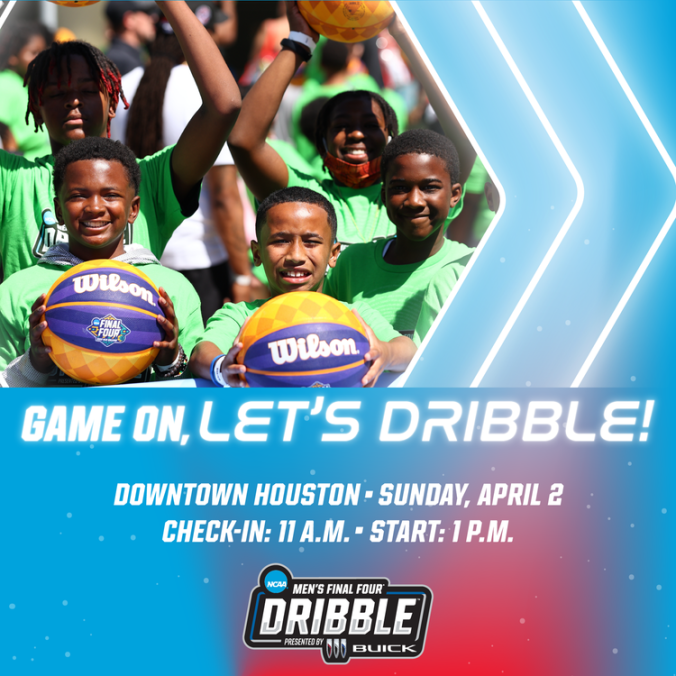 Parents and youth (ages 18 and under) are encouraged to register for the epic Men's Final Four Dribble scheduled for Sunday, April 2, at Houston City Hall.
Registration is free and the first 3,200 participants will receive a special NCAA Men's Final Four Dribble Wilson basketball and t-shirt for the event. Participants who register on the day of the event will have an opportunity to get a basketball and t-shirt on a first come, first served basis.
The one-mile course will start at Houston City Hall and end at the George R. Brown Convention Center where participants will be able to access the Men's Final Four Fan Festival free of charge.
Students who participated in the Read to the Final Four tournament will also have free access into the fan festival but will need to provide a coupon code issued at their school upon entry.
Along with the championship tournament, fans will have the opportunity to experience a sports wonderland of interactive games, meet with special guests and athletes, receive autograph signings, and much more.
To register for the Men's Final Four Dribble, click here.
To learn more about the Men's Final Four Fan Festival, click here.