Houston Independent School District will host its second annual Pride Summit for students grades 6-12 and their parents and caregivers on Saturday, May 6, 2023, from 10 a.m. – 1 p.m. The Pride Summit is a virtual event which offers participants a unique opportunity to support LGBTQ+ students and cultivate relationships within the community through education and advocacy.
The summit will be held via Zoom to best accommodate participants throughout the district and ensure that everyone can attend the summit safely and privately.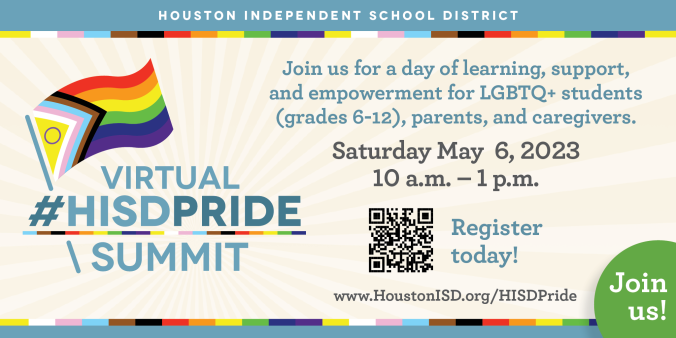 "The HISD Pride Summit is incredibly important because it provides a safe and inclusive space for our LGBTQ+ students, allies, and parents to come together, celebrate their identities, and raise awareness about important issues facing the LGBTQ+ community," said HISD Wraparound Resource Specialist Audrey Sanchez. "This event can help LGBTQ+ students feel seen, heard, and supported by their peers, school communities, and district."
Guest speakers will engage students and their allies in panel discussions and informational sessions focusing on community, advocacy, and overcoming the challenges facing LGBTQ+ youth as they transition into adulthood. Sessions will include LGBTQ+ 101 for parents and ally adults who want to stay informed and active in their support of their LGBTQ+ students.
The summit will kick off with an opening ceremony with addresses from community leaders and a keynote speaker. Afterwards, participants will move into breakout sessions tailored specifically for middle schoolers, high schoolers, and parents and caregivers.
"Overall, the HISD Pride Summit hopes to create a more inclusive and supportive school environment for all students and for our LGBTQ+ students to feel more confident and prepared for the journey ahead," Sanchez said.
For more information and to register for the 2023 HISD Virtual Pride Summit, click here.