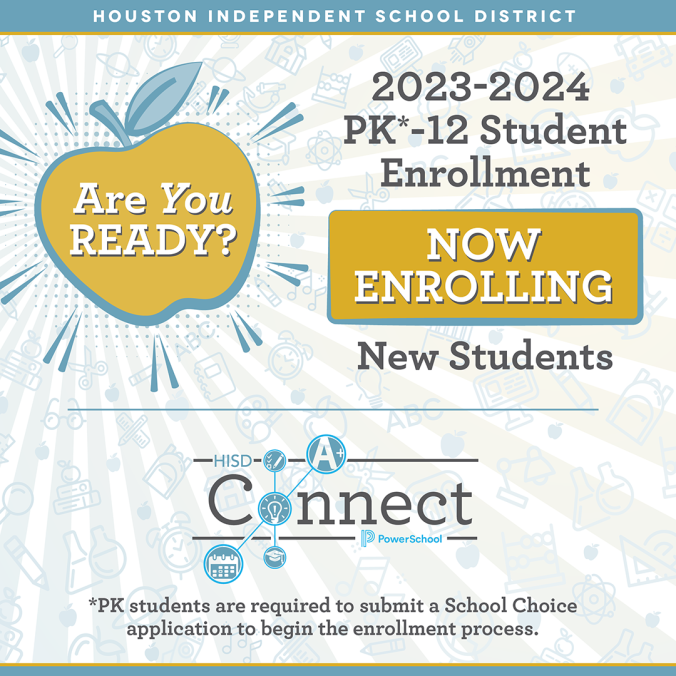 In Houston Independent School District, children dream BIG. Teachers with heart and passion like no one else set students up for success. Every campus has a specialist who can help with food, clothing, housing support, and so much more. And there is a learning option as unique as your child.
Beginning Monday, April 3, new students in grades pre-K through 12 can enroll in school with HISD for the 2023-2024 school year.
The online enrollment portal allows parents and caregivers who are new to the district to complete the enrollment application. Once the application is submitted, campuses will finalize student enrollment.
Families returning to HISD will be able to complete Returning Student Verification forms via their HISD Connect Parent Portal account beginning the first day of school, August 28, 2023. The online application allows parents to verify their home address, phone number, and email address, complete annual forms, and add/update emergency contacts. As a reminder, the Parent Portal Account can be used to keep track of student attendance, grades, class schedule, and more.
To find your child's zoned neighborhood school, visit www.HoustonISD.org/SchoolFinder.
If your child is interested in attending a school of choice that is not their zoned neighborhood school, visit www.HoustonISD.org/SchoolChoice for more information.
Pre-K applications follow the school choice application process. Additional details about this process can be found at www.houstonisd.org.prek.
We are here to help you every step of the way! If you need additional support, please contact Student Enrollment at 713-556-4826 or Enroll@HoustonISD.org with any questions.