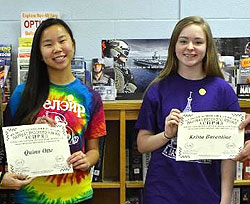 Every year, the American Council of Teachers of Russian (ACTR) recognizes high school students from across the country for their mastery of the Russian language.
This year, 30 students were honored, and two of them are from HISD: junior Krista Barentine (right) and senior Quinn Otte, both from Bellaire High School.
"Bellaire is the only school with two Scholar Laureates," noted Bellaire HS Russian teacher Elizabeth McLendon. "The rest only have one. We get two nominees due to the size of our program. There are only three Russian programs in the U.S.A. serving more than 100 students, and we are one of them."
The Scholar Laureate program was established in 2004 by the Board of Directors of the ACTR to give teachers of Russian an opportunity to recognize one sophomore or junior each year as the school's most outstanding Russian scholar. Students can only be nominated by teachers who are current members of ACTR.