Carnegie Vanguard High School is being celebrated as a gem in its Montrose neighborhood.
The Museum District Business Alliance presented the school with a New Construction Community Improvement Award and a $250 donation at its annual Holiday and Community Awards Luncheon on Thursday at Hotel Zaza. The program honors individuals and organizations that embody the artistic, entrepreneurial, and civic spirit of Montrose and the Museum District.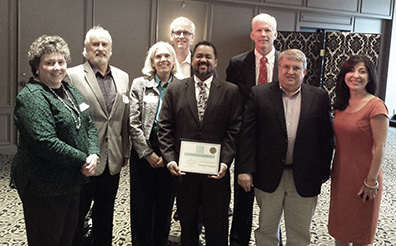 "We've worked hard to introduce our school to the neighborhood, even prior to the building being built," said Carnegie Vanguard Principal Ramon Moss, who attended the event with HISD trustees Michael Lunceford and Juliet Stipeche, the school's architects, and members of the school's Project Advisory Team. "Now that everything has come to fruition, we've heard from several neighbors, including residents and business owners. They really appreciate what we've added to the neighborhood."
The new school, which opened in 2012, was rebuilt under HISD's 2007 bond program into a 21st century learning environment with an innovative design concept and flexible and modern learning areas. Located at 1501 Taft, the school overlooks Houston's skyline and includes a green rooftop, rainwater storage tanks, and a unique red wall. The school was also designed and built to LEED (Leadership in Energy and Environmental Design) standards.
"Early on, we reached out to both the school and surrounding community for input on the whole project," said architect Howard Merrill of RdlR Architects, the Houston architectural firm that designed the school in partnership with the school's builder, Turner Construction Company. "A lot of what's now seen in the design –  the courtyards, the outdoor spaces, the unique niches and seating for students to collaborate – are a direct result from interaction with the parents, students and teachers to build upon a unique learning environment."
The award also acknowledges a special effort by the school's Project Advisory Team to preserve an existing part of the school building site, the Settegast Estate Building, built 75 years ago in the Montrose area. The building was renovated into an art annex to house the school's theater and art programs.
In October, the school received the K-12 Best Project award in the education category from Engineering News Record (ENR) Texas & Louisiana. Carnegie is one of 19 projects awarded ENR's highest honor of "Best Project" in their respective categories and will advance to the national competition to be considered for a "Best of the Best" national award. Winners will be announced on Dec. 18 in Dallas.
"We're very pleased about the attention this is bringing to the district, especially given the fact that we haven't submitted the project for any design awards yet," Merrill said.