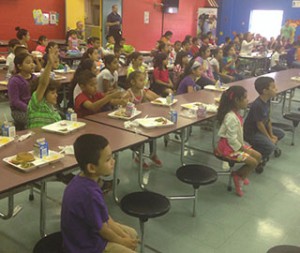 HISD wants to make sure no child goes hungry this summer.
The district kicked off its Summer Meal Program recently with events at Herrera and Gallegos Elementary schools. HISD Food Services teamed up with the Texas Hunger Initiative and USDA to raise awareness about the program, which provides children ages 1 to 18 with a healthy breakfast and lunch at no cost through July 3.
"It's all about making sure kids that are out of school during the summer have a good nutritional meal to eat," said HISD Food Services Community Relations Manager William Morris. "With the energy they expel during the summer, they need something to replace all of the vitamins that they are losing."
Last summer, HISD Food Services provided over one million free meals to children throughout the Houston-area. The Summer Meal Program has been running in the district for about 14 years, but is highly underutilized simply because many are unaware of the program.
Currently, there are 2.5 million children who receive free or reduced meals with only 280,000 eating during the summer. HISD wants parents to understand that every child has access to meals while school is not in session.
"Anyone, regardless of school district or residence, can participate. It doesn't have to be a student who is a part of the school district," said Morris.
Children do not need to be enrolled in summer school to participate in the program, and no paperwork, registration or proof of income is required. Adults may also participate by purchasing breakfast for $2 and lunch for $3.25. This gives parents the opportunity to eat with their child in school.
"It can be a child visiting from out of town," said Morris. "If they're hungry, they can come eat at one of the 265 schools participating."
For more information on where to find free meals after July 3, contact the City of Houston Parks and Recreation Department at 713-676-6832 or dial 2-1-1.
To find a summer meal location near you, please visit: www.houstonisd.org/summermeals.