District directs attention to reading improvement 
According to preliminary 2014 State of Texas Assessments of Academic Readiness (STAAR) scores, Houston Independent School District (HISD) students reflect statewide trends – showing stronger gains in math and science than reading and writing.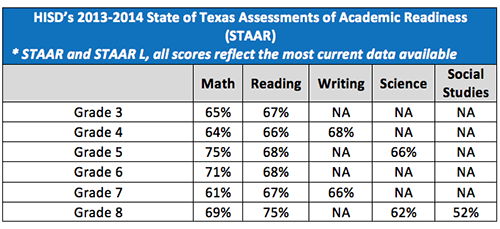 In math, year-over-year improvements were made across all grade levels except eighth grade.

In reading, year-over-year results were mixed with gains in grades 4 and 6 and declines in grades 3, 5, 7, and 8.

"I am encouraged by the number of students in our district who are having increased success in math. We have been very focused and systematic about our approach to teaching and tutoring math and we are seeing the results," said HISD Superintendent Terry Grier. "We must apply a similar approach to helping our students improve their reading and writing. Success in school and life depends greatly on a person's ability to read and write well and we must do better."
HISD administrators will use the summer to focus on launching the district's new literacy program, "Literacy By 3." Professional development sessions for each school's literacy leader – a designated teacher, counselor or assistant principal who will support and monitor how literacy is taught at his/her assigned campus, are planned for later this month. The district has also purchased leveled texts from Scholastic, Inc. These leveled-libraries will allow K-3 teachers to have books readily available at variety of reading levels, giving students more opportunities to practice reading. They will be in classrooms this fall.
Other Preliminary STAAR Exam Results
Houston ISD end-of-course (EOC) scores illustrate that most students are on track to graduate; however, there is still room for improvement. High school students scored well in math and science – 75 percent of students passed the algebra I test and 85 percent in biology while reading and writing scores lagged with around half of students passing on both English exams. Ninety percent of the students passed the U.S. History exam.
Legislation passed in 2013 reduced the number of STAAR end-of-course exams that high school students must pass in order to graduate from 15 down to five in the subjects of algebra I, English (reading and writing) I and II, U.S. History, and biology.