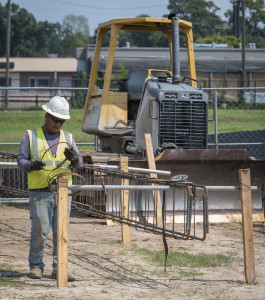 The construction phase for the 17 schools in Group 1 of the 2012 bond is gearing up, and this means that all of the work, previously being done behind the scenes, will move front and center.
To prepare sites for construction, a number of schools are undergoing demolition, utility work, and installation of fencing and other safety measures. Throughout this part of the project, construction firms have committed to implement strict safety procedures and to minimize the impact on students and the community.
"Safety is our number one priority, and number two is to not interfere with the school during construction," said Matt Wood Vice President of KBR Building Group, the construction firm working on the Furr, Sharpstown and Leland projects. "We want to be a good neighbor and we'll do that by making sure our workers follow all the guidelines."
HISD administrators, working with each school's Project Advisory Team, have looked at the best ways to phase construction to ensure that student learning is not disrupted. In some cases, students have been relocated to other facilities, in others students remain on campus and the construction site is fenced off from school activities.
Both physical and visual barriers will be erected around construction sites, and no workers will have any interaction with students or staff. In addition, contractors are required to comply with Senate Bill 9 and badging for its workers.
"In all building projects, the district is working to ensure that student safety and security is maintained and that the academic programs aren't compromised, with particular attention to testing schedules," said Robert Sands, HISD's Officer of Construction & Facility Services. "We are working with school principals to make sure testing dates and other key events are shared with contractors so they can be sensitive to these activities."
Forty HISD schools are being renovated or rebuilt with funds from the $1.89 billion bond program, which also includes work that will benefit students across the district: $100 million in technology upgrades, $44.7 million to replace regional fieldhouses and improve athletic facilities, $35 million to renovate middle school restrooms and $17.3 million for safety and security improvements.
Administrators are working closely with construction managers at risk (CMARs) to make sure that these projects stay within budget.
In conjunction with construction getting underway, bid opportunities and deadlines for sub-contractors are fast approaching. The following bid packages are expected to be released before the end of the year. Each CMAR handles the opening, releasing of information, public notices, and pre-bid meetings on their own bids. As required by law, bids will be announced via public newspaper notices, and most will also be available on contractor websites.
Bid packages coming soon (contact CMAR for additional information):
DeBakey HS (demo pkg. and bldg. pkg.) – Tellepsen Builders
Condit ES – DivisionOne
Mandarin (site pkg. and main bldg. pkg.) — Satterfield & Pontikes
Milby HS – Tellepsen Builders
Sterling HS – Cadence McShane
Furr HS – KBR Building Group
HSPVA – Cadence McShane
Lee HS – Satterfield & Pontikes
Sharpstown HS (demo pkg.) – KBR Building Group
Leland Young Men's Prep – KBR Building Group
Mark White ES — DivisionOne
High School for Law and Justice – B3Ci
Barnett/Butler Sports Complex – DivisionOne