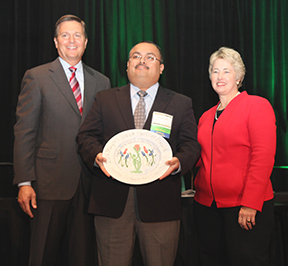 Houston Independent School District became the recipient of a Proud Partner Award in the 2014 Mayor's Proud Partner Awards on Monday. The district accepted the award for its National Wildlife Federation Eco-Schools Program, along with five additional recognitions, during the 30th annual luncheon hosted by Keep Houston Beautiful.
The Mayor's Proud Partners Luncheon, hosted by Keep Houston Beautiful, recognizes outstanding work by local organizations and individuals who aim to improve Houston's landscape through environmental and beautification projects.
"We are proud and honored to be recognized for our efforts to make environmental awareness and action a part of our learning environment," said HISD Chief Operating Officer Leo Bobadilla. "HISD is committed to making our school buildings and curriculum greener, and teaching our students the important role they play in sustainability and energy conservation."
The goal of the Eco-Schools program is to make environmental awareness and action an essential part of the culture of a school by creating Eco-Action teams that include students, teachers, administrators, non-teaching staff, parents and the community.
Houston Mayor Annise Parker presented the district with the award during the ceremony, along with five other recognitions:
Gabriela Mistral Center for Early Childhood Garden and Nature Playground (Proud Partner Award)
Hummingbird Highway for Pin Oak Middle School (Proud Partner Award)
HISD Partnership: East End's GreenSchools! Greenbelt Initiative (Honorable Mention)
Berry Elementary School named LEED Silver School (Certificate of Recognition)
Briargrove Elementary School: Green Apple Day of Service (Certificate of Recognition)