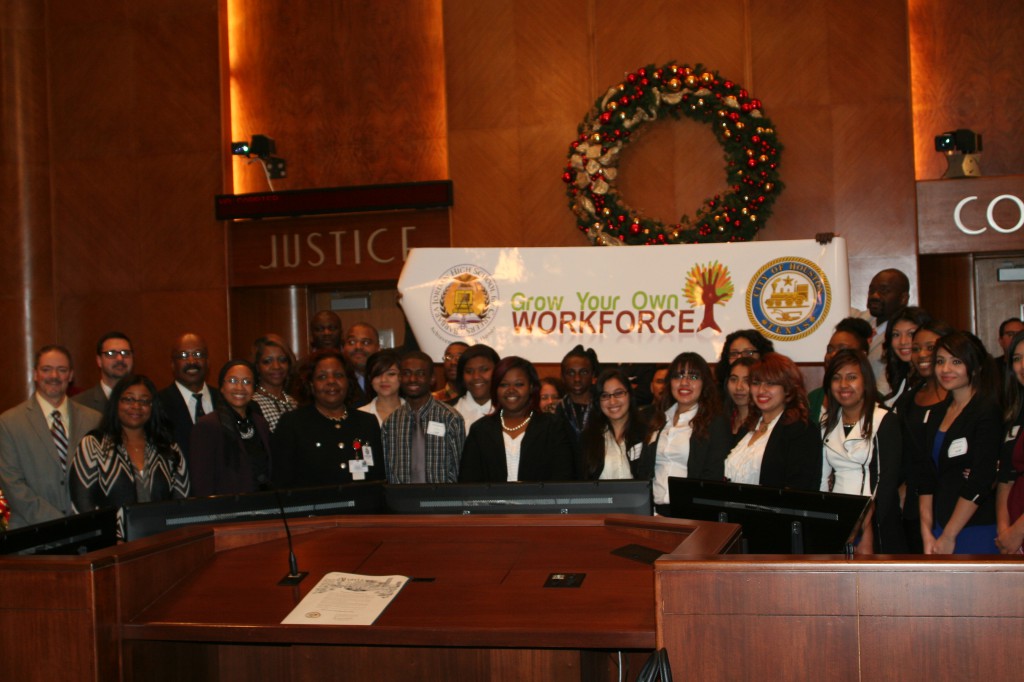 Twenty-one seniors from Barbara Jordan High School for Careers were recognized Tuesday, Dec. 9 by the City of Houston for their commitment to job shadowing with more than 10 city departments to get a comprehensive look at what it takes to provide services to residents of the nation's fourth largest city.
Since September, the students have been visiting a city department twice a week, touring departments such as the city council, parks and recreation, housing and community development, municipal courts, planning and information technology, business operations, and general services. They also visited William P. Hobby Airport and a fire department station.
The three-month program is part of a new partnership known as Houston Pathfinders, which was organized by the HISD Career Readiness department along with the school and city. The program was honored this week by city council members with a city proclamation to officially recognize Dec. 9 as Houston Pathfinders Day. Council members also encouraged the students to continue to learn more about their local government, complete high school and attend college, and stay engaged in their community.
"I never actually knew how much work goes into running a city," said 12th-grader Lizette Leal, who spoke to the Houston city council about her experience in the program. "We got to meet so many city officials and employees, and it was good to network with them and talk to them about what we as students want to do in our future."
The partnership also provided students training in resume writing and interviewing. Afterward, the students went through an interview process to be matched with a city department for a spring internship.
"Our students now have an opportunity to intern and even find a job with the city government, and I'm excited for them," said Jordan Principal John McAlpine. "As our school transitions to a career center, we look forward to maintaining this partnership because all learning does not take place within the walls of a school. Our students need exposure to real world careers."