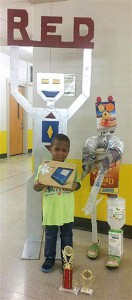 More than 200 parents gathered on the campus of Red Elementary School on Jan. 15 for a family STEM night that featured many fun, hands-on activities for participating students.
Children could design a floating car, create computer code, solve math problems, or read books on subjects related to science, technology, engineering, and math (STEM).
The highlight of the evening was a robot-building contest judged by representatives from the community, HISD administrators, and the National Society of Black Engineers. Students were required to put together a humanoid-looking creation between three and four feet high using only recycled items. Pre-K student Curtis Mayfield (pictured) won the contest with a design made from a cereal box, empty vinegar bottle, old pair of tennis shoes, and cardboard toilet paper rolls. His prize was a new Samsung tablet.