Campus is fourth in a series of articles on magnet schools with space still available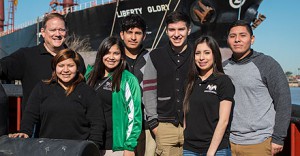 Students who attend Austin High School have two enticing study pathways available to them. They can embark on a path to becoming educators themselves through the school's well-established teaching professions program, or they can explore careers in the thriving maritime industry.
When the school's teaching program was created in 1982, it was the first high-school teacher preparation program of its kind in the nation. Today, the program benefits from a partnership with the University of Houston that prepares students both for life on a college campus after graduation, and life in the classroom as professional educators afterwards.
The school's maritime program, now in its sixth year, exposes students to some of the many local jobs available at the nearby Port of Houston and gives them a first-hand look inside some of those careers through field trips that let them sit at the controls of a powerful tugboat or work on state-of-the-art crane and forklift simulators.
"We are uniquely positioned to offer students opportunities that lead to careers in the maritime industry," said Principal Steve Guerrero. "We are currently the only high school in the United States with a bridge simulator, which gives students the experience that industry partners are looking for. And students in the teaching professions magnet program get classroom practice at Cage Elementary across the street."
Austin High School, which serves students in grades 9–12, also provides a traditional, comprehensive, high school experience with athletics and other enriching extracurricular activities available.
HISD will be holding its annual School Choice Fair on Saturday, April 25, for parents and students who have not yet decided on a school for the coming academic year. Austin is one of several schools that still has space available in its magnet program. For more information about Austin or other magnet campuses, please visit the School Choice website.