Campus is fourth in a series of articles on magnet schools with space still available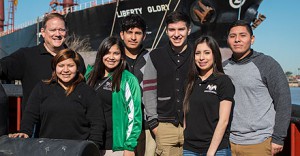 Students who attend Austin High School have two enticing study pathways available to them. They can embark on a path to becoming educators themselves through the school's well-established teaching professions program, or they can explore careers in the thriving maritime industry.
When the school's teaching program was created in 1982, it was the first high-school teacher preparation program of its kind in the nation. Today, the program benefits from a partnership with the University of Houston that prepares students both for life on a college campus after graduation, and life in the classroom as professional educators afterwards.