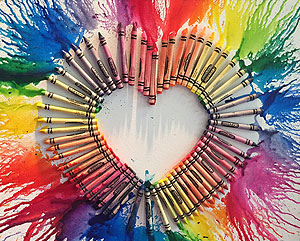 Almost 100 works by 80 different students featured in The LiterART Greyhound
A team of four educators led by a self-published author has given the gift of literary immortality to 80 students at Johnston Middle School.
The LiterART Greyhound: 2015 officially went up for sale on May 4, through Amazon's self-publishing arm, CreateSpace.
"As a performing and visual arts school, self-expression is important, and we try to do anything we can to fuel students' passion for it," explained campus network specialist Ches Smith. "The process is fairly simple and virtually free if you're willing to do all the work yourself. And it occurred to me that it would be a great experience for our students if they could see themselves in print."
So Smith approached Principal Wenden Sanders, Librarian Cindy Dinneen, English teacher Mark Dostert, and reading teacher Becky Mitchell. All expressed enthusiasm for the project and began identifying work they thought should be considered for inclusion. In all, 98 pieces by 80 students were selected for the anthology, including a stunning original piece by student Thalia Vivens for the cover (pictured).
"It was definitely a learning experience," added Smith. "Next time, we'll start right at the beginning of the year and work more hands-on with all the students who want to participate."