Dr. Grier honored by NSPRA for effective community partnerships, engagement practices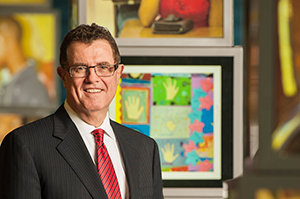 The National School Public Relations Association (NSPRA) has awarded HISD Superintendent Terry Grier the 2015 Bob Grossman Leadership in School Communications Award. The award recognizes a practicing superintendent of schools for outstanding leadership in school public relations and communications. The award will be presented on July 14 at the NSPRA National Seminar in Nashville, Tenn.
"From the multi-channeled communication program that has been established in Houston ISD to the authentic engagement, transparency, and accountability at all levels, there is no question that Terry Grier leads by example and 'walks the walk' in supporting strategic communication as a management function," said NSPRA Executive Director Rich Bagin.
Judges highlighted a commitment to two-way communication, and making information available through multiple platforms, such as websites, communications toolkits, social media, and tele-town hall meetings.
Dr. Grier led the district in its first customer satisfaction survey, "Your Voice," now in its third year. He was named 2014 Urban Educator of the Year by the Council of Great City Schools, and has been named a 2015 Children's Defense Fund "Champion of Children" for his leadership in connecting children to healthcare coverage.
The annual Bob Grossman Leadership in School Communications Award honors past NSPRA president Robert L. Grossman, who is known and respected for his creative and strategic public relations practices and for his belief that the commitment of education leaders to effective school communications is vital to both student and school success.
HISD Communications at a Glance