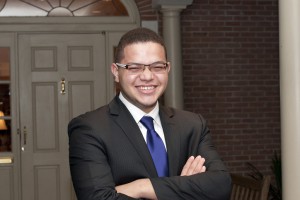 High School for the Performing and Visual Arts creative writing student Andrew White was selected this week by Mayor Annise Parker as Houston's first Youth Poet Laureate.
The HSPVA senior was among 45 Houston-area student writers who applied for the Youth Poet Laureate Program, a new initiative offered by Writers in the Schools, in partnership with the Houston Public Library, City of Houston and Mayor Parker.White received the honor on Thursday at the Writers in the Schools' Celebration of Story Gala. The designation will allow him to serve as a leader among his peers and share his voice and love of Houston across both the city and the state.
"Andrew demonstrates a commitment to civic and community engagement, poetry and performance, human relations, diversity, and education across Houston," Mayor Parker said. "Houston needs more young voices speaking to young people, and I am confident and pleased that he will use his talents to be a national voice for this great city."
As the Houston Youth Poet Laureate, White will receive a book deal from Penmanship Books to publish a collection of poems. He also will be awarded a podcast platform, a tablet PC, and a mentorship from Houston's poet laureate, Dr. Robin Davidson.
"As Houston's first Youth Poet Laureate, I hope I can spread the news that words matter," White said. "Together we must write the poems that need to be heard, poems that will unite and inspire us."
White is a student in HSPVA's creative writing department, which was founded in 2010. He regularly performs in school plays and takes playwriting and spoken word classes at Houston's Alley Theatre.
He is a founding member of the Houston Art for the New Generation teen leadership group at the Museum of Fine Arts in Houston. He also has participated in dramatic writing intensives at New York University's Tisch School of the Arts.
"Having the first Houston Youth Poet Laureate selected from our program is evidence that great teaching and learning are happening in our program," HSPVA Principal Robert Scott Allen said.
"Andrew is an outstanding student and integral part of our campus, whether performing a monologue of creative poetry readings or performing on the main stage in a school musical. I have watched in awe as he has transformed into a creative powerhouse and captivated audiences. He has the talent and ability to accomplish great things after high school."