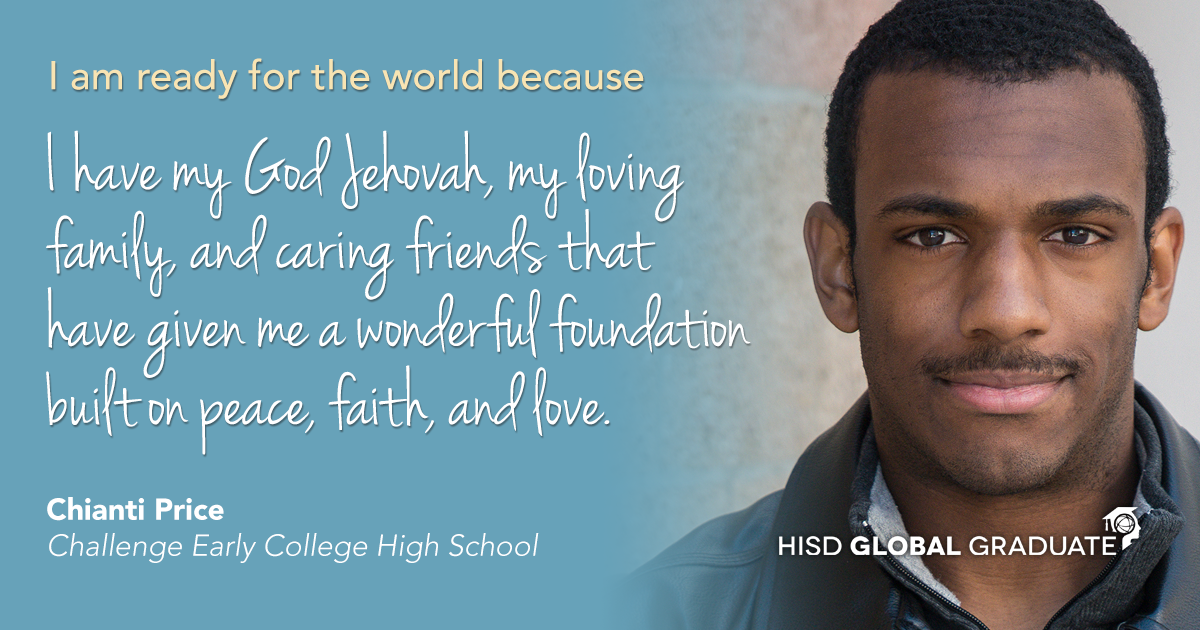 Editor's Note: Thousands of seniors have received their diplomas during graduation ceremonies across the district. Many of our students have overcome challenging circumstances during their educational journeys. We are sharing a few of their stories.
Chianti Price chose his future profession for two reasons: faith and medicine.
"I want to be an RN," the valedictorian at Challenge Early College High School says. "From a young age, I've always wanted to learn about the human body."
When he's not helping patients, he will be preaching his faith. He hopes the irregular work hours of a nurse will allow him to carve out time for regular pioneer service as a Jehovah's Witness.
Chianti will graduate with his associate's degree in science and is attending UT Health Science Center Houston College of Nursing in the spring.
Chianti has long been thought of as a leader in his school and congregation. He mentors middle-school students at Pin Oak every Friday and serves as an attendant in his congregation.
"I carry myself as a compass and make sure I'm friendly," he says. "I like to make people feel good about themselves."
He feels a good leader can understand what people want, is not afraid to speak his or her mind, and knows when — and how — to speak up.
He says he put his leadership skills to work in advisory period at CECHS recently when he got a shy freshman student to come out of her shell in class.
"The way she expressed herself that day made me feel like a good leader," he says.
Principal Tonya Miller calls Chianti "a true servant leader."
"Chianti is a positive young man who treats everyone with respect. He attracts people to him with his openness and kindness and is successful with the highest level of humility. He has a seriousness of purpose, a passion for learning, and a strong sense of integrity."